Music Video: Treal - Spaceship (check out more about this Florida Hip-Hop crew at http://www.myspace.com/trealorangecounty)
Feds Run HIV/AIDS Numbers Game
- The Final Call
U.S. Presidential Election #1: Democratic Party Convention Begins This Week; Michelle Obama Represents With Her Speech
- MSNBC
U.S. Presidential Election #2: The Hillary DieHards (Need To Get Over It)
- The Nation
U.S. Presidential Election #3: For America's Scholars Of Race, An Obama Dilemma
- Black Agenda Report
U.S. Presidential Election #4: The Five Faces Of Barack Obama
- TIME Magazine
U.S. Presidential Election #5: John McCain Gets Endorsed by Reggaeton Star Daddy Yankee (Um...OK and yes, this is a real story)
- RADAR Magazine
U.S. Presidential Election #6: The Right-Wing Blogosphere
- The Village Voice
Bank Customer Data Sold on eBay in the UK
- BBC News
Another Thing Showing Hitler Was Crazy As Hell: Tunnels Show Hitler's Megalomaniac Vision
- Yahoo! News
Jailhouse Cop: Sheriff Locks Himself Up to Know What It's Like
- Newsweek
A New Press for Justice in Chicago Cop's Thanksgiving Day Killings
- The Huffington Post
R.I.P. and Condolences to the Family of Dr. Dre With The Sudden Passing Of His son, Andre Young, Jr.
- AllHipHop.com
K-Ci and JoJo Do the R&B Legacy of Jodeci An Injustice Again At Live Performance
- Rhymes With Snitch
Nun Beauty Pagent Gets Cancelled
- D-Listed
With The Internet, Y'all Should Remember Acting The Fool In The Club Lives On Forever In Cyberspace
- Crunk + Disorderly
NOMINATE DJ DECKO FOR MIXTAPE ROOKIE OF THE YEAR AT THE S.E.A. AWARDS.
CLICK HERE TO VOTE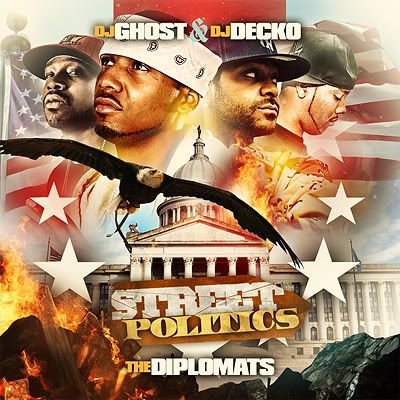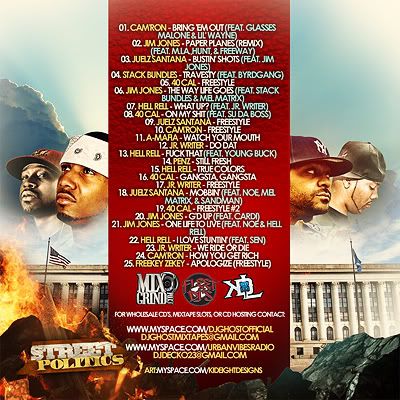 VISIT MIXGRIND.COM NOW TO ORDER
Peace Family,
My peoples DJ Decko hit me up to give this Hip-Hop mixtape to the
BlackRadioIsBack.com
and
FuseBox Radio Broadcast
listenership/readership to enjoy....check it out, download and rock it!
Tracklisting:
01. CAM'RON - BRING 'EM OUT (FEAT. GLASSES MALONE & LIL' WAYNE)
02. JIM JONES - PAPER PLANES (REMIX) (FEAT. M.I.A., HUNT, & FREEWAY)
03. JUELZ SANTANA - BUSTIN' SHOTS (FEAT. JIM JONES)
04. STACK BUNDLES - TRAVESTY (FEAT. BYRDGANG)
05. 40 CAL - FREESTYLE
06. JIM JONES - THE WAY LIFE GOES (FEAT. STACK BUNDLES & MEL MATRIX)
07. HELL RELL - WHAT UP? (FEAT. JR. WRITER)
08. 40 CAL - ON MY SHIT (FEAT. SU DA BOSS)
09. JUELZ SANTANA - FREESTYLE
10. CAM'RON - FREESTYLE
11. A-MAFIA - WATCH YOUR MOUTH
12. JR. WRITER - DO DAT
13. HELL RELL - FUCK THAT (FEAT. YOUNG BUCK)
14. PENZ - STILL FRESH
15. HELL RELL - TRUE COLORS
16. 40 CAL - GANGSTA, GANGSTA
17. JR. WRITER - FREESTYLE
18. JUELZ SANTANA - MOBBIN' (FEAT. NOE, MEL MATRIX, & SANDMAN)
19. 40 CAL - FREESTYLE #2
20. JIM JONES - G'D UP (FEAT. CARDI)
21. JIM JONES - ONE LIFE TO LIVE (FEAT. NOE & HELL RELL)
22. HELL RELL - I LOVE STUNTIN' (FEAT. SEN)
23. JR. WRITER - WE RIDE OR DIE
24. CAM'RON - HOW YOU GET RICH
25. FREEKEY ZEKEY - APOLOGIZE (FREESTYLE)