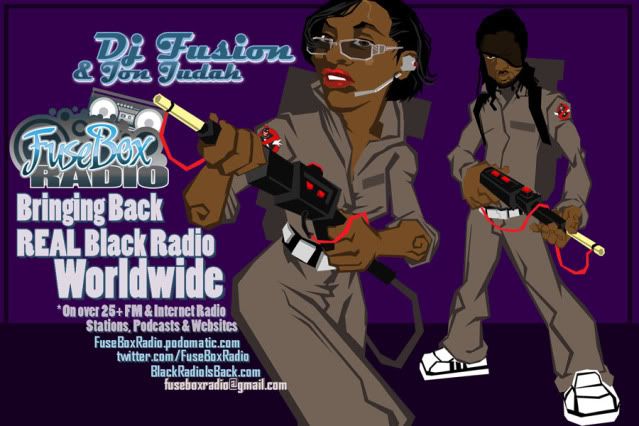 Player (via
Podomatic
feed):
Backup Player (via
Blip.TV
feed):
Direct mp3 Download
(right click and "save as")
Backup mp3 Download via Blip.TV
(right click and "save as")
This is the latest episode of the syndicated
FuseBox Radio Broadcast
with DJ Fusion & Jon Judah for the week of August 24, 2011 with some new and classic Hip-Hop & Soul Music, news and commentary.
FuseBox Radio Playlist for the Week of August 24, 2011 (in no particular order)
Das EFX feat. Redman/Rap Scholar/Elektra
Dream Warriors/My Definition of A Boombastic (Jazz Style)/4th & Broadway
Ashford & Simpson/Found A Cure/WB
Ashord & Simpson/Solid (Live)/Media Push
Blu feat. Donel Smokes, Definite Mass & Dubble Oh/Down to Earth/Nature Sounds
DJ Shadow feat. Afrikan Boy/I'm So Excited/Verve
Colonel Red feat. Ursula Rucker/Keep Walkin'/Tokyo Dawn Records
Timbo King feat. R.A. The Rugged Man/High Ranking/Nature Sounds
Willie the Kid feat. LAD/Minnie Ripperton Dart/White Label
Superstar Quamallah & DeQawn/Manhattan Reflections/Cotter & Brick Records Shad/Flawless/The Real Frequency (Played Live)
TwinSpirit/Get Myself Together/TwinSpiritsWorld.com (Played Live)
Trackademicks feat. Phonte & Carlitta Durand/Halfway/Trackademicks.bandcamp.com
Robbie Nevil/C'est La Vie (DJ Ekho Refix)/White Label
Rudy feat. Machel Montano/Whip RMX/White Label
Bobby Hutcherson/Patterns/Blue Note
A Taste of Honey/Rescue Me/Capitol
PLUS Some Extra Special Hidden Tracks in the Jon Judah Master Mix w/ Old School Black Music Classics and Independent Music Finds (including tunes by Michael Jackson, Tupac Shakur, Run-DMC, Soul II Soul, Dr. Dre, Kook G. Rap, Slick Rick, Force MDs & more!)
Current FuseBox Radio Broadcast Radio & Internet Affiliates
** Most Stations/Outlets Tracked via RadioWave Monitor, Mediaguide & SoundExchange **
Subscribe to get the weekly episodes of the syndicated FuseBox Radio Broadcast with DJ Fusion & Jon Judah!