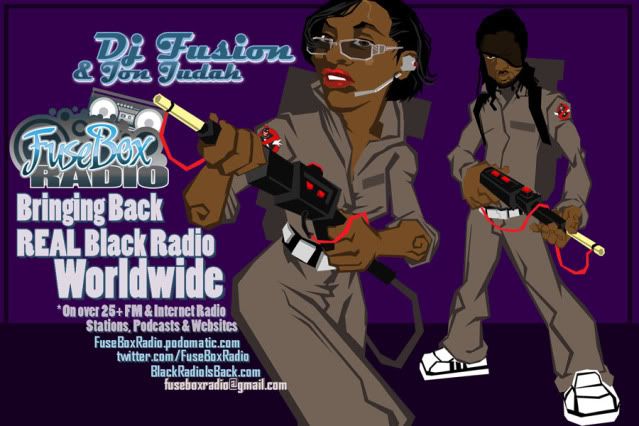 Player (via
Podomatic
feed):
Direct mp3 Download
(right click and "save as")
FuseBox Radio Playlist for the Week of January 25, 2012 (in no particular order)
Ghostface Killah/Child's Play [Altnerate Version]/Epic
Donald Byrd/Estavanico/Blue Note
Robert Glasper Experiment feat. Erykah Badu/Afro Blue/Blue Note
Erick Sermon feat. Jimi Hendrix/A Way Out/White Label
MPA (Marvin Ambrosius)/Soulja System/Keda Mgmt.
Bill Ortiz/I Still Believe (Montgomery Bus RMX)/Left Angle Records
Emcee Jermaine/Rap Casserole/Rock The Dub Records
Sonnymoon/Magician/Plug Research
SmCity feat. Trey Dupree/Watch Me/SmCityMusic.com
Roq'y TyRaiD/Preach!/RoqyTyRaiD.com
B.o.B. feat. Andre 3000/Play The Guitar/Grand Hustle
The Wonderful Sound of Induce/Livin' In The Future (Gigamesh RMX)/The Wonderful Sound
Rampage feat. R.A. The Rugged Man/Zig Zag Zig/Def Jam Digital
Wiley/Scar/Big Dada
D.P.E./Memoir/DPEMusic.bandcamp.com
PLUS Some Extra Special Hidden Tracks in the Jon Judah Master Mix w/ Old School Black Music Classics and Independent Music Finds
Current FuseBox Radio Broadcast Radio & Internet Affiliates
** Most Stations/Outlets Tracked via RadioWave Monitor, Mediaguide & SoundExchange **
Subscribe to get the weekly episodes of the syndicated FuseBox Radio Broadcast with DJ Fusion & Jon Judah!