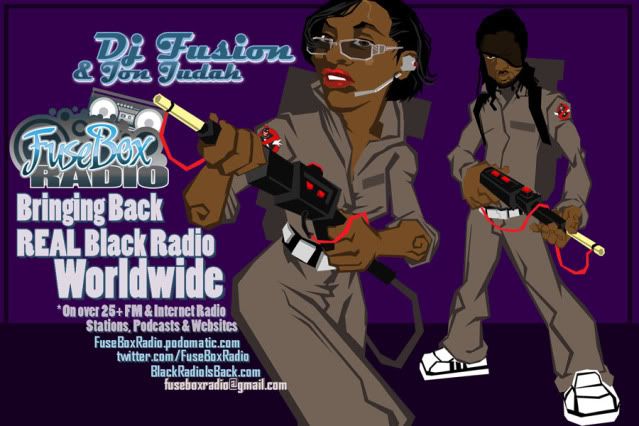 This is the latest episode of the syndicated
FuseBox Radio Broadcast with DJ Fusion & Jon Judah
for the week of April 25, 2012 with some new and classic Hip-Hop & Soul Music, news and commentary.
Our extended commentary this week touched base on
some more of the latest updates and our opinions of the reactions from activists, politicians, individuals, the media more about the Trayvon Martin case in the United States and beyond
,
the recent & sudden loss of New York City's 98.7 KISS FM radio station & it's impact on Mainstream Black/Urban Radio
,
another case of criminal foolery via Twitter
,
the discovery of Hip-Hop producer J. Dilla (R.I.P.) personal music collection being sold at a Detroit record store
,
the passing of LeRoy T. Walker (the first African-American to coach a United States men's Olympic track team and to serve as the president of the United States Olympic Committee)
and some other diverse topics here and there.
There are brand new
Free Press
"Media Minutes",
Black University Radio Network
(B.U.R.N.) Direct EFX and
Black Agenda Report
News mini-segments on this week's episode.
Feel free to check out some
recent episodes of the syndicated FuseBox Radio Broadcast over at our official blog,
BlackRadioIsBack.com - all of the shows are clean/radio friendly
.
FuseBox Radio Playlist for the Week of April 25, 2012 (in no particular order)
GZA/Alphabets/Babygrande
Abbey Lincoln/African Lady/Candid Records
I Self Divine/The Origin Of Urban Crisis/Rhymesayers
Rocket Juice & The Moon feat. Erykah Badu & M.anifest/Dam(n)/Honest Jon's
Vicelounge/Big Problems (I Love The Way)/Vicelounge.com
Blaqstarr/Roses/Interscope
1982 feat. Roc Marciano & Havoc/Thug Poets/Showoff & ST. Records
Leroge/Best Friend/White Label Mobonix/Reset Button/XIL Recordings
LAM & Grins feat. Rasco & Fleetwood/Oh God/Self-Expression Music & Breakneck Road
Nneka/Shining Star (Joe Goddard RMX)/Decon
Tribeca feat. Camp Lo &M-Dot/True Lies/White Label
Captain Planet/Speakin' Nuyorican/BBE
DJ Premier and Bumpy Knuckles/Own It/Fat Beats
Morgan Heritage/The Return/White Label
Never Yet Contested feat. Indigo & Ayinde/The Wave/Tru Statement Ent.
Yung Texxus & Tek Neek feat. Bun B/I'm Comin' Down/State City Music
Ron Browz feat. Where It At Tonight/White Label
PLUS Some Extra Special Hidden Tracks in the Jon Judah Master Mix w/ Old School Black Music Classics and Independent Music Finds
Current FuseBox Radio Broadcast Radio & Internet Affiliates
** Most Stations/Outlets Tracked via RadioWave Monitor, Mediaguide & SoundExchange **
Subscribe to get the weekly episodes of the syndicated FuseBox Radio Broadcast with DJ Fusion & Jon Judah!