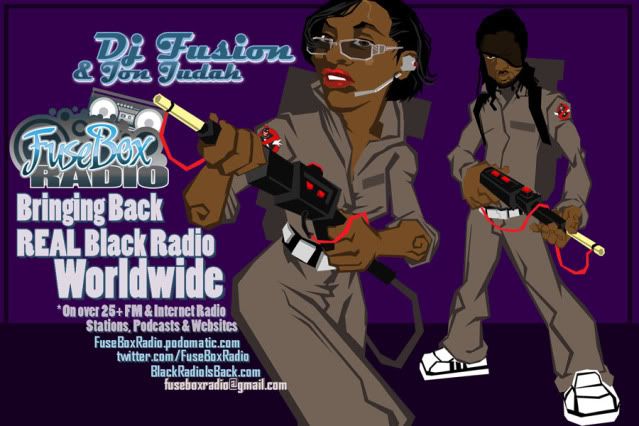 Player (via Podomatic feed):
Backup Player (via
Blip.TV
feed):
Direct mp3 Download
(right click and "save as")
Direct mp3 Download Backup
(right click and "save as"; via
Blip.TV
)
This is the latest episode of the syndicated
FuseBox Radio Broadcast
with DJ Fusion & Jon Judah for the week of November 24, 2010 with some new and classic Hip-Hop & Soul Music, news and commentary.
Some of the topics we covered in this in depth interview include each member's musical & environmental influences in Odd Squad Records, the history of the label & collective, everyone's past history in the music industry, what inspires Odd Squad creatively to make music daily, the need for balance in Hip-Hop music, past & future plans & music projects and lots more!
We also have on a special hour segment on this week's show from our Black Agenda Report family with their "Black Agenda Radio" program.
The description of that segment is below:
The recommendations put forward by the two co-chairs of President Obama's deficit reduction commission are so "over the top," says consumer advocate Ralph Nader, "if there's anything that ought to get the liberal left going, it's this monstrosity, which Obama has to take some responsibility for." The former presidential candidate says the assault on social programs "shows the hand of the corporate Democrats and their Republican allies in a very distinct way." What's not in the co-chairs' proposal is as glaring as what's included. "They didn't say we should have a speculation tax on derivatives and other transactions of Wall Street," for example, "which economists have estimated could raise $400 billion a year."




Black Is Back Rally in Washington, DC




Eugenia Charles reports on the cholera epidemic in Haiti, where international aid "is not being used to support the Haitian people"; People's Organization for Progress director Larry Hamm calls for renewed grassroots organizing to "build a movement stronger than the one we had in the Sixties"; and Black is Back chairman Omali Yeshitela says Barack Obama represents "white power in a Black face."
FuseBox Radio Playlist for the Week of November 24, 2010
Sun Ra & His Myth Science Arkestra/Velvet/Impluse
Kid 'N Play feat. Salt-N-Pepa/I Don't Know/Select Records
Kanye West/Dark Fantasy/Roc-a-Fella & Def Jam
Marsha Ambrosius/Far Away/J Records
JR & PH7 feat. Sean Price & Oliver Day Soul/Persausion/Soulspazm & Foundation Media
More Fire/Lost & Turned Out/Odd Squad Records
Jamiroquoi/Two Completely Different Things/Universal & Mercury
N.E.R.D./God Bless Us All/Star Trak & Interscope
Gensu Dean feat. Large Professor/Forever/Can I Borrow This Record Productions The Electric feat. Yarah Bravo/Beautiful (Suonho Italian Boogie RMX)/OGS
Faith Evans/Sunshine/E1
Will.I.Am feat. Nicki Minaj/Check It Out (Benny Benassi RMX)/Interscope
Opolopo/Glide/Toyko Dawn Recordings
Big Shug/Sucka MCs 2010/Clockwork Music
Flip, Verb & J. Fire/Hey Lil' Mama/Odd Squad Records
Reme Izabo's Music Research/The Same Man/Soundway Records
Fabio Musta feat. Wyld Bunch/Hands Of Time/FabioMusta.com
Moke & Tone feat. The Problemaddicts, Crooked I & Mr. Met/Respect (inst.)/Mystika Music
PLUS Some Extra Special Hidden Tracks in the Jon Judah Master Mix w/ Old School Black Music Classics and Independent Music Finds
Current FuseBox Radio Broadcast Radio & Internet Affiliates (as of this week):




UrbanNetwork.com's The Mix Internet Radio Station - UN Power Jam Radio

(owned by Urban Network Magazine)

OKRP.com

,

ReeWineMusic.com/ReeWine Radio

,

Progressive Blend Radio

,

Sprint Radio Extra/mSpot (via the Worldwide Alpha Communications Network)

,

SouthBound.FM

,

DeadBeat Radio

,

CrackAudio.com

,

TheBestJams.com/The Best Jams Radio

,

Radio CPR 97.5 FM

,

FlyTunes.FM/FlyCast

,

Planet Urban (Austrailia)/PlanetUrban.com.au

,

AmalgamDigital.com

,

BlockJams.com

,

ConspiracyUK.com

,

FONYE Radio

,

VI Radio

,

DurdeeSouthRadio.com

,

Beyond.FM

,

MyBlockRadio.net

,

Rutgers University Radio, WRSU 88.7 FM

,

Stop Beefin' Start Eatin' Radio

,

Ceesiety Radio

,

Mixshow Blast Radio

,

Slip-N-Slide DJs Podcast

,

The Best Jams

,

ExtravaGangsta Radio

,

HipHopSoulRadio.com

,

Digiwaxx Presents: The Blast

,

White Folks Get Crunk for DJs

,

Legion Music & Media

,

UnderWorldMixRadio.com

,

MixLaWax Radio

,

Trunk Hustlers Online

,

907 Jamz

.

The6.FM

,

Nilo Radio

,

1.FM Jamz

,

Blayze University Radio

,

Blip.TV

,

iBlog126.com

,

Miro

,

WSOUF.com

,

True Fire Radio

,

StreetsD.com (Streets Mos Magazine Radio)

,

Rock The Dub

,

Last Word Online

,

Soul Pitch Hustle

,

Black Soul Rhythms

,

Honey Magazine

,

i95.FM

,

The PRess Junkie

,

Planet Ill

,

Ground Up Radio

,

W.O.W. Radio

,

DIRadioCast

,

Fleet DJ Radio

,

SWURV Radio

,

Revolt Radio

,

GC Radio

,

BlackCoffeeChannel.com

(Coming Soon),

Gutta Muzik (HD) Radio

(Coming Soon)
** Most Stations/Outlets Tracked via RadioWave Monitor, Mediaguide & SoundExchange **
Subscribe to get the weekly episodes of the syndicated FuseBox Radio Broadcast with DJ Fusion & Jon Judah!