Direct mp3 Download
(right click and "save as")
Direct mp3 Download Backup
(right click and "save as"; via
Blip.TV
)
This is the latest episode of the syndicated
FuseBox Radio Broadcast
with DJ Fusion & Jon Judah for the week of March 25, 2009 with some new and classic Hip-Hop & Soul Music, news and commentary.
This week's commentary focused on some recent mainstream news stories about health disparities and issues for the Black community to other communities in the U.S. and some other things here and there.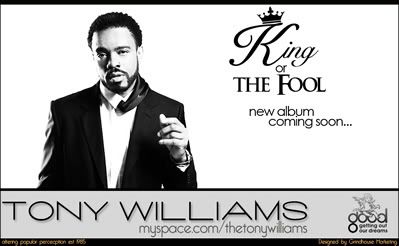 This week we have a great interview with Soul Music Artist Tony Williams (
http://www.myspace.com/thetonywilliams
) from G.O.O.D. Music.
This interview was done right before the inauguration of U.S. President Barack Obama in D.C. where we takled about everything from Tony Williams' life & background, the importance of continuing a strong Black Music tradition, his influences, the music industry, his upcoming album "King or The Fool", the historical impact of having a Black American elected to be president and many other things!
Due to our interview, we did not have new
DirectEFX
or
Black Agenda Report
segments this week.
Feel free to check out
some recent episodes of the syndicated FuseBox Radio Broadcast here on BlackRadioIsBack.com - all of the shows are clean/radio friendly
.
FuseBox Radio Playlist for the Week of March 25, 2009 (in no particular order)
The Roots/Dynamite!/MCA
Scratch feat. Musiq Soulchild/Tonite/Gold Dust & !K7
Mavado feat. Busta Rhymes/So Blessed RMX/VP
Unique Image/Fresh Off The Lot/Big Gates Records
Mistah FAB/Teenage Thug/Faeva Afta, Thizz & Atlantic Records
DOOM/Gazzillion ear/Lex Records
Jim Snooka feat. Young Vadah/That's My Word/Never So Deep Records
David Rush feat. Pitbull & Kevin Rudolph/Shooting Star (Party Rock RMX)/Xequitive Board Ent., Mr. 305 & Koch
Tony Williams/Dreaming Of Your Love/G.O.O.D. Music
Rhymefest feat. Queen Latifah/Goin' In/White Label
AwkQuarious (Pikahsso & Tahiti)/Let's Hit The Town/
BlackManWithBlog.blogspot.com
Nappy Roots feat. Beenie Man & Rock City/Good Day RMX/White Label
UGK feat. Raheem DeVaughn/Still on the Grind/UGK Records
Mims feat. DJ Class/Move (Class Heat RMX)/American King
American Yard/Start The Show/Konvict Muzik & Universal Motown
Camar feat. T-Pain/Blame It RMX/Slip-N-Slide
Tony Williams/Hey/G.O.O.D. Music
Mayhem Poets feat. KRS One & Busta Rhymes/Rent/
MayhemPoets.com
Z-Ro feat. Maya/Tired (inst.)/Rap-A-Lot
Immortal Technique/Mistakes (inst.)/Viper Records
Adebisi/80s Babies (inst.)/Blax Ent.
Heltah Skeltah/Midnight Madness (inst.)/Coalmine Records
Big Tone/Business (inst.)/Tres Records
K. Michelle feat. Trina/Self Made (inst.)/
KMichelleMusic.com
PLUS Some Extra Special Hidden Tracks in the Jon Judah Master Mix w/ Old School Classics and more MySpace.com Independent Music Finds
Current FuseBox Radio Broadcast Radio & Internet Affiliates (as of this week):

UrbanNetwork.com's The Mix Internet Radio Station - UN Power Jam Radio (owned by Urban Network Magazine) OKRP.com, ReeWineMusic.com/ReeWine Radio, Progressive Blend Radio, Sprint Radio Extra/mSpot (via the Worldwide Alpha Communications Network), SouthBound.FM, DeadBeat Radio, CrackAudio.com, TheBestJams.com/The Best Jams Radio, FlyTunes.FM/FlyCast ,Planet Urban (Austrailia)/PlanetUrban.com.au, AmalgamDigital.com, BlockJams.com, ConspiracyUK.com , FONYE Radio , VI Radio , DurdeeSouthRadio.com , Beyond.FM , MyBlockRadio.net, Rutgers University Radio, WRSU 88.7 FM, Stop Beefin' Start Eatin' Radio, Ceesiety Radio, Mixshow Blast Radio, Slip-N-Slide DJs Podcast, The Best Jams, ExtravaGangsta Radio, HipHopSoulRadio.com , Digiwaxx Presents: The Blast , White Folks Get Crunk for DJs, Legion Music & Media, UnderWorldMixRadio.com, MixLaWax Radio, Trunk Hustlers Online, 907 Jamz. The6.FM, Nilo Radio, 1.FM Jamz, Blayze University Radio, Blip.TV, iBlog126.com, Miro, WSOUF.com, True Fire Radio,BlackCoffeeChannel.com (Coming Soon), Gutta Muzik (HD) Radio (Coming Soon), StreetsD.com (Streets Mos Magazine Radio) (Coming Soon)



** Most Stations/Outlets Tracked via RadioWave Monitor, Mediaguide & SoundExchange **



Subscribe to get the weekly episodes of the syndicated FuseBox Radio Broadcast with DJ Fusion & Jon Judah!