Direct mp3 Download
(right click and "save as")
Direct mp3 Download Backup
(right click and "save as"; via
Blip.TV
)
This is the latest episode of the syndicated
FuseBox Radio Broadcast
with DJ Fusion & Jon Judah for the week of December 1, 2009 with some new and classic Hip-Hop & Soul Music, news and commentary.
Our commentary this week focused on what seems to be the week of knocking down the "Magic Negro" mystique (yet not wanting to really deal with competent and human tendencies in Black People) in mainstream media with the coverage of
golfer Tiger Woods' infidelity
and
U.S. President Barack Obama's Speech on escalating the war front in Afghanistan
. We also touched on
World AIDS Day
along with some other things here and there.
We had another great interview this week with author, political strategist, econonomist, journalist and business consultant Cedric Muhammad (
http://www.CedricMuhammad.com
).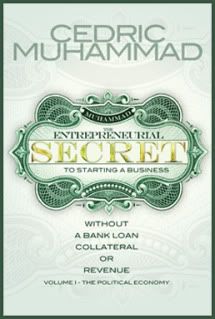 We talked about his latest book series,
The Entrepreneurial Secret: Starting A Business Without A Bank Loan, Collateral or Revenue
(
http://www.theESecret.com
).
Questions asked included everything from who is the audience he's reaching out for with this work, how the book's information ties into the current national and international economy today, the Hip-Hop Generation and business, some of the stereotypes about how to start a successful business, having a good team behind you for success, some of his other past & current ventures (including writing the weekly Hip-HopPreneur article series for AllHipHop.com) and other things!
There are new episodes of
Black Agenda Report
and
Direct EFX
segments this week.
Feel free to check out
some recent episodes of the syndicated FuseBox Radio Broadcast here on BlackRadioIsBack.com - all of the shows are clean/radio friendly
.
FuseBox Radio Playlist for Week of December 1, 2009 (in no particular order)
Onlychild feat. Kriminul of Jigmastas/Crazy Rhymin'/Grand Central Records
Blakroc feat. Billy Danze, Nicole Wray & Q-Tip/Hope You're Happy/Blakroc Project
Marcia Griffiths & Busy Signal/Automatic/Greensleeves Records
Dres of Black Sheep/Forever LuvLee/
WhosTheBlackSheep.com
Game Rebellion/Blind/
GameRebellion.com
DOOM/Sniper Elite/Gold Dust & Stones Throw
Fly Gypsy feat. Tattiana Aqueel-de Olivera/You/
FlyGypsy.com
Shafiq Hussayn/The Odd is C/Plug Research
Souls of Mischief/Proper Aim/Clear Label Records
Kel Spencer/Eye on You/3rd Power Music Group
Margie Joseph/One More Chance/BBE Music
Kelis/Acapella/will.I.am Music Group & Interscope
The Co-op/Dumb It Down (DMV RMX)/
CoopMusicOnline.com
Doja Click feat. E-40 & Turf Talk/Talk'n Bout Me (inst.)/Heat Rock Records (Played Live)
PLUS Some Extra Special Hidden Tracks in the Jon Judah Master Mix w/ Old School Classics and more MySpace.com Independent Music Finds
Current FuseBox Radio Broadcast Radio & Internet Affiliates (as of this week):

UrbanNetwork.com's The Mix Internet Radio Station - UN Power Jam Radio (owned by Urban Network Magazine) OKRP.com, ReeWineMusic.com/ReeWine Radio, Progressive Blend Radio, Sprint Radio Extra/mSpot (via the Worldwide Alpha Communications Network), SouthBound.FM, DeadBeat Radio, CrackAudio.com, TheBestJams.com/The Best Jams Radio, Radio CPR 97.5 FM, FlyTunes.FM/FlyCast ,Planet Urban (Austrailia)/PlanetUrban.com.au, AmalgamDigital.com, BlockJams.com, ConspiracyUK.com , FONYE Radio , VI Radio , DurdeeSouthRadio.com , Beyond.FM , MyBlockRadio.net, Rutgers University Radio, WRSU 88.7 FM, Stop Beefin' Start Eatin' Radio, Ceesiety Radio, Mixshow Blast Radio, Slip-N-Slide DJs Podcast, The Best Jams, ExtravaGangsta Radio, HipHopSoulRadio.com , Digiwaxx Presents: The Blast , White Folks Get Crunk for DJs, Legion Music & Media, UnderWorldMixRadio.com, MixLaWax Radio, Trunk Hustlers Online, 907 Jamz. The6.FM, Nilo Radio, 1.FM Jamz, Blayze University Radio, Blip.TV, iBlog126.com, Miro, WSOUF.com, True Fire Radio, StreetsD.com (Streets Mos Magazine Radio), Rock The Dub, Last Word Online, Soul Pitch Hustle, Black Soul Rhythms, Honey Magazine, i95.FM, The PRess Junkie, Planet Ill, Ground Up Radio, BlackCoffeeChannel.com (Coming Soon), Gutta Muzik (HD) Radio (Coming Soon)



** Most Stations/Outlets Tracked via RadioWave Monitor, Mediaguide & SoundExchange **
Subscribe to get the weekly episodes of the syndicated FuseBox Radio Broadcast with DJ Fusion & Jon Judah!