Direct mp3 Download
(right click and "save as")
Direct mp3 Download Backup
(right click and "save as"; via
Blip.TV
)
This is the latest episode of the syndicated
FuseBox Radio Broadcast
with DJ Fusion & Jon Judah for the week of December 8, 2009 with some new and classic Hip-Hop & Soul Music, news and commentary.
Our commentary this week focused on more of the overblown mainstream media saga with the coverage of golfer
Tiger Woods' infidelity
and it's ties to race & sex issues, the importance of
Soul Music singer Sade's latest single and upcoming album in 2010
and some other things here and there.
We had another great interview this week with the independent Hip-Hop/Soul/Electro music group Dukes of Daville (
http://www.DukesWorldOrder.com
).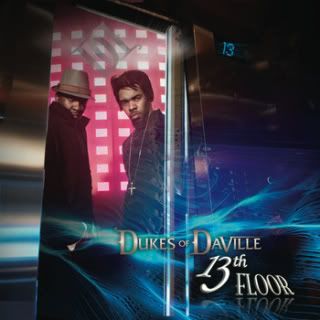 Some of the questions we had for the Hinesville & Atlanta, Georgia music duo (consisting of Cedric "Ric aka Ricky Balboa" Lindsey and James "Jimi" Smalls) included their musical backgrounds, how they met up, their former deal at Capitol Records, the current album release that's out now for free download
The 13th Floor
(available at
http://DukesOfDaville.bandcamp.com
), how they feel about the current music industry and many other interesting things!
There are new episodes of
Black Agenda Report
and
Direct EFX
segments this week.
Feel free to check out
some recent episodes of the syndicated FuseBox Radio Broadcast here on BlackRadioIsBack.com - all of the shows are clean/radio friendly
.
FuseBox Radio Playlist for Week of December 8, 2009 (in no particular order)
Sade/Solider of Love/Epic
B.o.B. feat. Bruno Mars/Nothin' On You/Grand Hustle & Atlantic
Dukes of Daville feat. Larry Lace/13th Floor/DukesOfDaville.com
Clipse feat. Pharrell & Kenna/Life Change/Star Trak
Dukes of Daville/Cadillac/DukesOfDaville.com
Raheem Devaughn/Lyin' To Myself/368 Music Group
Kool DJ E.Q./Death of Hip-Hop/Bomb Hip-Hop
Blakroc feat. Billy Danze, Nicole Wray & Q-Tip/Hope You're Happy/White Label
Dukes of Daville feat. Nappy Roots & UGK/Lean Back/DukesOfDaville.com
Dres of Black Sheep/Forever LuvLee/WhosTheBlackSheep.com
The Co-op/Dumb It Down (DMV RMX)/CoopMusicOnline.com
Yoshi feat. Vincent Kelley/No Stress/Raw Fusion Records
Diamond District/Something for Y'all/Mello Music Group
Most HiFi feat. Mista Chuck & Huggy/Action/SlamJamz Records
Dukes of Daville/The Industry/DukesOfDaville.com
Doja Click feat. E-40 & Turf Talk/Talk'n Bout Me (inst.)/White Label
Lil' Tony/Shout Out (inst.)/NGenius Ent.
PLUS Some Extra Special Hidden Tracks in the Jon Judah Master Mix w/ Old School Classics and more MySpace.com Independent Music Finds
Current FuseBox Radio Broadcast Radio & Internet Affiliates (as of this week):

UrbanNetwork.com's The Mix Internet Radio Station - UN Power Jam Radio (owned by Urban Network Magazine) OKRP.com, ReeWineMusic.com/ReeWine Radio, Progressive Blend Radio, Sprint Radio Extra/mSpot (via the Worldwide Alpha Communications Network), SouthBound.FM, DeadBeat Radio, CrackAudio.com, TheBestJams.com/The Best Jams Radio, Radio CPR 97.5 FM, FlyTunes.FM/FlyCast ,Planet Urban (Austrailia)/PlanetUrban.com.au, AmalgamDigital.com, BlockJams.com, ConspiracyUK.com , FONYE Radio , VI Radio , DurdeeSouthRadio.com , Beyond.FM , MyBlockRadio.net, Rutgers University Radio, WRSU 88.7 FM, Stop Beefin' Start Eatin' Radio, Ceesiety Radio, Mixshow Blast Radio, Slip-N-Slide DJs Podcast, The Best Jams, ExtravaGangsta Radio, HipHopSoulRadio.com , Digiwaxx Presents: The Blast , White Folks Get Crunk for DJs, Legion Music & Media, UnderWorldMixRadio.com, MixLaWax Radio, Trunk Hustlers Online, 907 Jamz. The6.FM, Nilo Radio, 1.FM Jamz, Blayze University Radio, Blip.TV, iBlog126.com, Miro, WSOUF.com, True Fire Radio, StreetsD.com (Streets Mos Magazine Radio), Rock The Dub, Last Word Online, Soul Pitch Hustle, Black Soul Rhythms, Honey Magazine, i95.FM, The PRess Junkie, Planet Ill, Ground Up Radio, BlackCoffeeChannel.com (Coming Soon), Gutta Muzik (HD) Radio (Coming Soon)



** Most Stations/Outlets Tracked via RadioWave Monitor, Mediaguide & SoundExchange **
Subscribe to get the weekly episodes of the syndicated FuseBox Radio Broadcast with DJ Fusion & Jon Judah!