Direct mp3 Download
(right click and "save as")
Direct mp3 Download Backup
(right click and "save as"; via
Blip.TV
)
This is the latest episode of the syndicated
FuseBox Radio Broadcast
with DJ Fusion & Jon Judah for the week of December 15, 2009 with some new and classic Hip-Hop & Soul Music, news and commentary.
Our commentary this week focused on the Golden Globe nominations for the movie
Precious
and it's possible effect on Black Hollywood and it's images, the stereotype shoe being placed on the other foot with
MTV's reality TV show

Jersey Shore
and some other things here and there.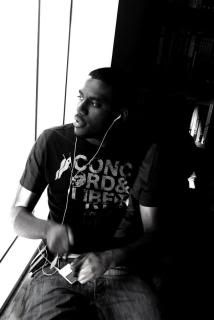 Some of the topics we touched based on with the Washington, DC native (now currently living in Brooklyn) was how he became interested in music in general, why he felt the need to move from the DC Metro to NYC to make some extra moves in his career, some of the things he likes and dislikes about the music industry, some upcoming projects and other things!
There is a new episode of
Black Agenda Report
this week but no new
Direct EFX
segment (did not receive before broadcast recording time).
Feel free to check out
some recent episodes of the syndicated FuseBox Radio Broadcast over at our official blog, BlackRadioIsBack.com - all of the shows are clean/radio friendly
.
FuseBox Radio Playlist for the Week of December 15, 2009 (in no particular order)
King Sun/Street Corner/Cold Chillin'
Elucid/My Mayor is a Billionaire/Loosie Music (
http://www.myspace.com/ElucidMusic
)
Nick Van Gelder feat. Nina Miranda/Foolish Moon/BBE
Slum Village/Money Right/Barak Records
Yahzarah/Guiltine/White Label (
http://www.myspace.com/Yahzarah
)
Marc Streitenfeld/Hundred Percent Pure/Def Jam & Imagine Ent.
The Roots/Millie Pulled A Pistol On Santa/White Label
Sade/Solider of Love/Epic
Clipse feat. Pharrell & Kenna/Life Change/Star Trak
David E. Beats/Over Here/I AM PR Agency
Blakroc feat. Billy Danze, Nicole Wray & Q-Tip/Hope You're Happy/White Label (
http://www.BlakRoc.com
)
B.o.B. feat. Bruno Mars/Nothin' On You/Grand Hustle & Atlantic
Raheem Devaughn/Lyin' To Myself/368 Music Group
The Co-op/Dumb It Down (DMV RMX)/
CoopMusicOnline.com
Yoshi feat. Vincent Kelley/No Stress/Raw Fusion Records
Eddie Giles/Losin' Boy/BBE
David E. Beats/Her Features/I AM PR Agency
Gucci Mane/Lemonade (inst.)/Asylum
PLUS Some Extra Special Hidden Tracks in the Jon Judah Master Mix w/ Old School Classics and more MySpace.com Independent Music Finds
Current FuseBox Radio Broadcast Radio & Internet Affiliates (as of this week):

UrbanNetwork.com's The Mix Internet Radio Station - UN Power Jam Radio (owned by Urban Network Magazine) OKRP.com, ReeWineMusic.com/ReeWine Radio, Progressive Blend Radio, Sprint Radio Extra/mSpot (via the Worldwide Alpha Communications Network), SouthBound.FM, DeadBeat Radio, CrackAudio.com, TheBestJams.com/The Best Jams Radio, Radio CPR 97.5 FM, FlyTunes.FM/FlyCast ,Planet Urban (Austrailia)/PlanetUrban.com.au, AmalgamDigital.com, BlockJams.com, ConspiracyUK.com , FONYE Radio , VI Radio , DurdeeSouthRadio.com , Beyond.FM , MyBlockRadio.net, Rutgers University Radio, WRSU 88.7 FM, Stop Beefin' Start Eatin' Radio, Ceesiety Radio, Mixshow Blast Radio, Slip-N-Slide DJs Podcast, The Best Jams, ExtravaGangsta Radio, HipHopSoulRadio.com , Digiwaxx Presents: The Blast , White Folks Get Crunk for DJs, Legion Music & Media, UnderWorldMixRadio.com, MixLaWax Radio, Trunk Hustlers Online, 907 Jamz. The6.FM, Nilo Radio, 1.FM Jamz, Blayze University Radio, Blip.TV, iBlog126.com, Miro, WSOUF.com, True Fire Radio, StreetsD.com (Streets Mos Magazine Radio), Rock The Dub, Last Word Online, Soul Pitch Hustle, Black Soul Rhythms, Honey Magazine, i95.FM, The PRess Junkie, Planet Ill, Ground Up Radio, BlackCoffeeChannel.com (Coming Soon), Gutta Muzik (HD) Radio (Coming Soon)



** Most Stations/Outlets Tracked via RadioWave Monitor, Mediaguide & SoundExchange **
Subscribe to get the weekly episodes of the syndicated FuseBox Radio Broadcast with DJ Fusion & Jon Judah!