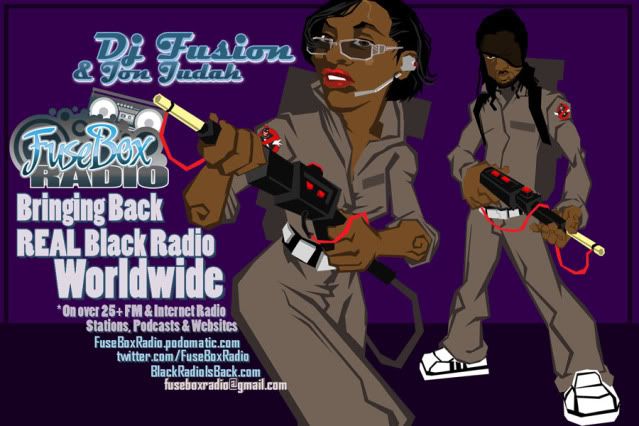 Player (via
Podomatic
feed):
Backup Player (via
Blip.TV
feed):
Direct mp3 Download
(right click and "save as")
Direct mp3 Download Backup
(right click and "save as"; via
Blip.TV
)
This is the latest episode of the syndicated
FuseBox Radio Broadcast
with DJ Fusion & Jon Judah for the week of January 19, 2011 with some new and classic Hip-Hop & Soul Music, news and commentary.
Our commentary this week focused on the weird timing
Jean-Claude "Baby Doc" Duvalier's return to post-earthquake ravaged Haiti
,
the recent study talking about the percentage of American college students not graduating with proper critical thinking skills
,
the passing of Rock Music Promoter & TV Producer Don Kirshner
, the sort of "meh" return of the "
American Idol
TV franchise, Dr. Dre's "Detox" album feeling like it will never drop for the Hip-Hop masses,
the disputed music documentary dropping by Michael Rappaport about the classic Hip-Hop crew A Tribe Called Quest
and some other diverse things here and there.
We have brand new
Black Agenda Report
,
Free Press "Media Minutes"
&
Black University Radio Network (B.U.R.N.) Direct EFX
mini-segments on this week's syndicated FuseBox Radio Broadcast episode.
We also aired a special 30 minute documentary by the Free Speech Radio News (FSRN) Network called "Time on the Outside – Incarceration and Families" - the description of the documentary is below:
As the population of people in prison continues to grow at an exponential rate, another population is also growing: People with loved ones behind bars. Reporter Shannon Heffernan spent time with families dealing with incarceration in Illinois. The struggles these families experienced, as well as the alternative solutions being explored, reflect national trends. Where she only uses first names, it is at the request of interviewees for privacy.
Feel free to check out
some recent episodes of the syndicated FuseBox Radio Broadcast over at our official blog, BlackRadioIsBack.com - all of the shows are clean/radio friendly
.
FuseBox Radio Playlist for the Week of January 19, 2011 (in no particular order)
Teena Marie/You Make Love Like Springtime/Motown
Art Blakey/Split Skins/Blue Note
Lafayette Afro Rock Band/Ogelnon/Makossa
Ghostface Killah/Black Tequila/Def Jam
Saigon feat. Faith Evans/Clap/Suburban Noize
Gods'illa feat. Joe D/Glaciers/UAU Music
Cacho Brodas/Siente Mi Funk/Toyko Dawn Records
NonKu Phiri/Sava Life/Beatvizion Music
Leila Adu/Sick Department Store/Tracce/Rai Trade, Little Red Hen & Frizz Records
Sizzla feat. Half Pint, Panton Moja & Jimmy Riley/Selassie Is The King/White Label
Five Steez/Rebel Music/White Label (http://www.reverbnation.com/FiveSteez)
Leroge/Ambient Soul/White Label (http://www.reverbnation.com/Leroge)
Jack Splash feat. Martin Luther/2010/Body Music
PLUS Some Extra Special Hidden Tracks in the Jon Judah Master Mix w/ Old School Black Music Classics and Independent Music Finds
Current FuseBox Radio Broadcast Radio & Internet Affiliates (as of this week):
UrbanNetwork.com's The Mix Internet Radio Station - UN Power Jam Radio

(owned by Urban Network Magazine)

OKRP.com

,

ReeWineMusic.com/ReeWine Radio

,

Progressive Blend Radio

,

Sprint Radio Extra/mSpot (via the Worldwide Alpha Communications Network)

,

SouthBound.FM

,

DeadBeat Radio

,

CrackAudio.com

,

TheBestJams.com/The Best Jams Radio

,

Radio CPR 97.5 FM

,

FlyTunes.FM/FlyCast

,

Planet Urban (Austrailia)/PlanetUrban.com.au

,

AmalgamDigital.com

,

BlockJams.com

,

ConspiracyUK.com

,

FONYE Radio

,

VI Radio

,

DurdeeSouthRadio.com

,

Beyond.FM

,

MyBlockRadio.net

,

Rutgers University Radio, WRSU 88.7 FM

,

Stop Beefin' Start Eatin' Radio

,

Ceesiety Radio

,

Mixshow Blast Radio

,

Slip-N-Slide DJs Podcast

,

The Best Jams

,

ExtravaGangsta Radio

,

HipHopSoulRadio.com

,

Digiwaxx Presents: The Blast

,

White Folks Get Crunk for DJs

,

Legion Music & Media

,

UnderWorldMixRadio.com

,

MixLaWax Radio

,

Trunk Hustlers Online

,

907 Jamz

.

The6.FM

,

Nilo Radio

,

1.FM Jamz

,

Blayze University Radio

,

Blip.TV

,

iBlog126.com

,

Miro

,

WSOUF.com

,

True Fire Radio

,

StreetsD.com (Streets Mos Magazine Radio)

,

Rock The Dub

,

Last Word Online

,

Soul Pitch Hustle

,

Black Soul Rhythms

,

Honey Magazine

,

i95.FM

,

The PRess Junkie

,

Planet Ill

,

Ground Up Radio

,

W.O.W. Radio

,

DIRadioCast

,

Fleet DJ Radio

,

SWURV Radio

,

Revolt Radio

,

GC Radio

,

BlackCoffeeChannel.com

(Coming Soon),

Gutta Muzik (HD) Radio

(Coming Soon) and MORE Listed Soon!
** Most Stations/Outlets Tracked via RadioWave Monitor, Mediaguide & SoundExchange **
Subscribe to get the weekly episodes of the syndicated FuseBox Radio Broadcast with DJ Fusion & Jon Judah!