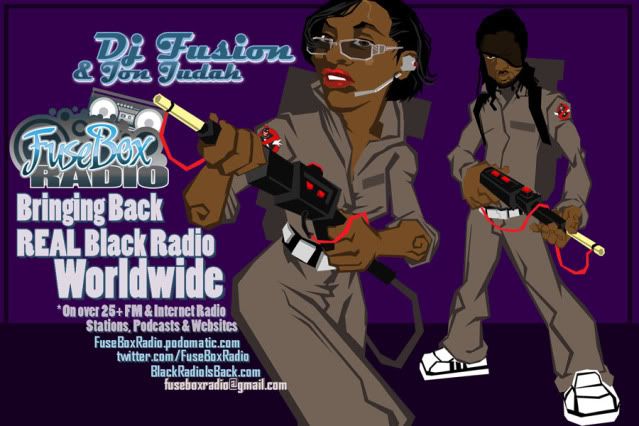 Player (via
Podomatic
feed):
Backup Player (via
Blip.TV
):
Direct mp3 Download
(right click and "save as")
Backup mp3 Download
(right click and "save as")
This is the latest episode of the syndicated
FuseBox Radio Broadcast
with DJ Fusion & Jon Judah for the week of May 25, 2011 with some new and classic Hip-Hop & Soul Music, news and commentary.
FuseBox Radio Playlist for the Week of May 25, 2011 (in no particular order)
Artists Against Apartheid feat. Gil Scott-Heron, Miles Davis, Grandmaster Melle Mel, Peter Wolf, Fat Boys, Sonny Okosuns, Malopoets, Duke Bootee, Ray Baretto & Peter Garrett/Let Me See Your ID/EMI Manahattan Records
Mr. Scruff feat. Quantic/Donkey Ride/Ninja Tune
DJ Cam feat. Chris James/Swim (Blackjoy Version)/!K7 & Inflammable
Rhian Benson feat. Jonas/Be (Sona Vabos RMX)/Icarus Music
Phil Ade/Speed of Sound/368 Music Group
J. Rawls/Why Do You/Nature Sounds
Oddisee/I'm From PG/Mello Music Group
Mr. Scruff/Come On Granddad/Ninja Tune
Massive Attack vs. Mad Professor/Cool Monsoon (Weather Storm)/Gyroscope
Jill Scott feat. Anthony Hamilton/So In Love/WB
Fonzworth Bentley/Fireside Chat/G.O.O.D. Music
Julie Dexter/Come In Home/JulieDexter.com
Gods'illa feat. Maimouna Youssef/You Don't Have To Be A Star/Up & Up Recordings
Rare Essence/Guess Who's Back/Rare One Records
Mista Savona feat. Capelton/Prove Them Wrong/Mista Savona Productions & Elfant Tracks
Soul Parlor feat. Colonel Red/Real (Opolopo Roller Skate RMX))/Tokyo Dawn Records Elzhi/It Ain't Hard To Tell/Elzhi.com
Substance Abuse feat. Tash from Tha Liks/Don't Get Us Wrong/SubstanceAbuseHipHop.com
PLUS Some Extra Special Hidden Tracks in the Jon Judah Master Mix w/ Old School Black Music Classics and Independent Music Finds
Current FuseBox Radio Broadcast Radio & Internet Affiliates (as of this week):
** Most Stations/Outlets Tracked via RadioWave Monitor, Mediaguide & SoundExchange **
Subscribe to get the weekly episodes of the syndicated FuseBox Radio Broadcast with DJ Fusion & Jon Judah!