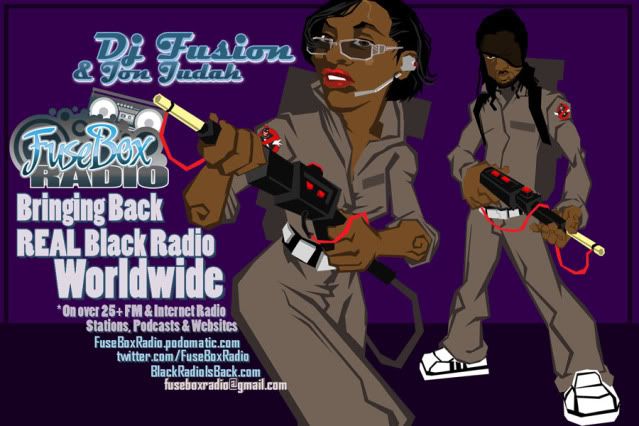 Player (via
Podomatic
feed):
This is the latest episode of the syndicated
FuseBox Radio Broadcast with DJ Fusion & Jon Judah
for the week of March 14, 2012 with some new and classic Hip-Hop & Soul Music, news and commentary.
Our commentary this week touched base on
the "War On Women" (and well, pretty much everyone of Color) by various members of the Republican Party as of late
,
the buried warnings from various U.S. politicians about the dangers of the Patriot Act
,
a Russian town firing their whole police department for the unnecessary death of a person in custody
and if that type of action would ever happen in the U.S. with our law enforcement,
Soul Musician Syl Johnson reaching a settlement with Jay-Z & Kanye West for his sample being used on "The Throne" album
, a mini-movie review of "John Carter", the pretty cool story of
a man finding the family he lost as a child via Google Earth after over 25 years
and some other diverse topics here and there.
There are brand new
Free Press
"Media Minutes" and
Black Agenda Report
News mini-segments on this week's episode.
Big K.R.I.T./1986/BigKRIT.com
DJ Numark feat. Large Professor/When You Sleep/Hot Plate Records
Sutter Kain feat. Mr. Grimm & Donnie Darko/Winter Music Pt. 4/Never So Deep Records
Tall Black Guy Productions feat. Simeon Viltz & Shev Rock/Dance Forever/TallBlackGuyProductions.com
Mayday! feat. Dead Prez/TNT/MaydayOnline.com
Robert Glasper Experiment feat. Mos Def/Black Radio/Blue Note
irRAdio/Call The Nation/White Label (www.facebook.com/pages/Irradio)
Nneka feat. Black Thought/God Knows Why/Yo Mama's Recordings & Decon
Planet Asia feat. Raekwon & Oh No/No Apologies/Nature Sounds
Slaughterhouse/Hammer Dance/Shady & Interscope
Ninjasonik/Turned Up/Decon
Emeli Sande/Next To Me (Mojam RMX)/Capitol
Alchemist/Death Wish/Decon
Yinka Oyewole/(Sometimes These South London Streets Remind Me Of) Brooklyn/Sabatta.net
Alchemist/Killing Me/Decon
PLUS Some Extra Special Hidden Tracks in the Jon Judah Master Mix w/ Old School Black Music Classics and Independent Music Finds
Current FuseBox Radio Broadcast Radio & Internet Affiliates
** Most Stations/Outlets Tracked via RadioWave Monitor, Mediaguide & SoundExchange **
Subscribe to get the weekly episodes of the syndicated FuseBox Radio Broadcast with DJ Fusion & Jon Judah!