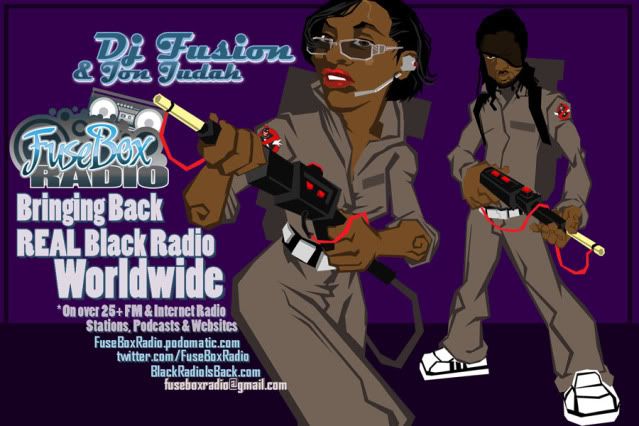 This is the latest episode of the syndicated
FuseBox Radio Broadcast with DJ Fusion & Jon Judah
for the week of July 3, 2013 with some new and classic music from the international Black Diaspora, news and commentary.
Our commentary this week including our viewpoint of the
recent updates in the Zimmerman trial for the death of Trayvon Martin
,
U.S. college student debt spinning out of control
,
Hip-Hop MC/Businessman Jay-Z's marketing and promotional push for his latest album, "Magna Carta Holy Grail"
,
the death of martial artist/actor Jim Kelly
plus some other things here and there.
There is a brand new
Black Agenda Report
news mini-segment on this week's episode.
Feel free to check out
some recent episodes of the syndicated FuseBox Radio Broadcast over at our official blog, BlackRadioIsBack.com - all of the shows are clean/radio friendly
.
FuseBox Radio Playlist for the Week of July 3, 2013 (in no particular order)
UGK feat. Big Daddy Kane & Kool G Rap/Next Up/UGK Records & Jive
Joey Badass feat. Smoke DZA/Death of YOLO/Cinematic Music Group
Melo-X/Mojitos and Little Dragon/GFCNY
Peven Everett/One Way Ticket/Makin' Moves
Quadron/Hey Love/Vested in Culture & Epic
Killer Mike & El-P (Run The Jewels)/Get It/Fools Gold
BRTSH KNIGHTS/If I Was To (El-B RMX)/Technicolour
Jay-Z/Heaven/Roc Nation
Fat Tony/I Shine/Young One
Neon Neon/Hoops With Fidel/Lex
Kid A/BB Bleu (Elphino RMX)/Technicolour
Joey Badass/Flow-ers/PRO ERA
The Brand New Heavies/Forward/Shanachie Ent.
The Stepkids/The Lottery/Stones Throw
J. Rawls Presents The Liquid Crystal Project feat. Copywrite/Take It EZ/Polar Ent.
Tony Touch feat. Raekwon, Ghostface & RZA/Unorthodox/Soul Temple
Quasimoto/Seasons Change/Stones Throw
Chuck Inglish feat. Sulaiman & DJ Izzo/Keith Sweat/Sounds Like Fun
Rapper Big Pooh/Gold Chain/White Label
Dysfunctional Famlee/If The End Was Tomorrow/Narcata Records
PLUS Some Extra Special Hidden Tracks in the Jon Judah Master Mix w/ Old School Black Music Classics and Independent Music Finds
Current FuseBox Radio Broadcast Radio & Internet Affiliates
** Most Stations/Outlets Tracked via RadioWave Monitor, Mediaguide & SoundExchange **
Subscribe to get the weekly episodes of the syndicated FuseBox Radio Broadcast with DJ Fusion & Jon Judah!