** Due to having to handle some major outside musical events and other things, we aren't able to post up our most recent FuseBox Radio Broadcast episode...however, we dug into the archives to give folks some flashback radio goodness to listen to...enjoy! **
This is the latest episode of the syndicated FuseBox Radio Broadcast with DJ Fusion & Jon Judah (aka Ausar Ra Black Hawk) for the week of Feb. 19, 2014 (originally broadcast on the weeks of March 16 & 23, 2015) with some new and classic music from the international Black Diaspora, news and commentary.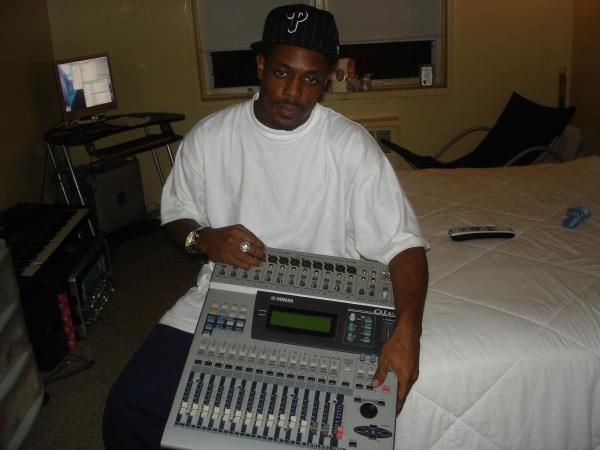 During that show's broadcast in our WRSU 88.7 FM days (Rutgers University Radio), we interviewed producer & engineer 4th Disciple (who has been behind many hits by Wu-Tang Clan, Killarmy, Sunz of Man, Vinny Paz and more) along with talking about various topical issues and more!
Feel free to check out some recent episodes of the syndicated FuseBox Radio Broadcast over at our official blog, BlackRadioIsBack.com - all of the shows are clean/radio friendly.
FuseBox Radio Playlist + Charts for the Week of Feb. 19, 2014 (originally broadcast on weeks of March 16 & 23, 2005)
Top Spins (Music Still Lasting in Rotation/Music Played Live on Air Each Week/As Well As Music Requested By The Listeners)
1. Cuban Link feat. Jadakiss/Talk About It/M.O.B. Records
2. AZ & Nas/Serious/Koch
3. Masta Ace feat. Big Noyd/Do It Man/M3 & Studio Dist.
4. St. Juste feat. D. Fenominal/Miracle/White Label (contact:
anger_mgmt@hotmail.com)
5. Time Machine feat. Ed OG/Mind In A Spin/Glow In The Dark Records
6. Tru N Livin/Buy Freedom/White Label
7. Naam Brigade feat. E-Ness & Cassidy/Where You Are/Hilltop
Entertainment (Contact: La Juan Andrews @ juanla28@hotmail.com)
8. Styles P/I'm Black/Ruff Ryders & Interscope
9. M.O.P./Everyday's A Hustle/White Label
10. Fat Joe/Safe 2 Say/Atlantic
11. Emanon/Count Your Blessings/Shaman Work
12. All Natural/Soul She Feel/All Natural
13. Kurrput Money Inc. feat. Notorious B.I.G./Bondage/White Label
14. Cise/Paradise/Wall Street Ent. (Contact: http://www.wsemusic.com)
15. Pitch Black & Styles P/Nice/Travio
16. ODB feat. Rhymefest/Dirty Dirty/Sureshot
17. RA The Rugged Man feat. Masta Killa & Killa Priest/Chains/Nature Sounds
18. Nas/NY/White Label
19. Filthee Immigrants feat. B. Real, Guru, Rakka Iriscience &
Evidence/Find Us RMX/ABB Records
20. Faith/Again/Capitol Records
21. Lina/I Am/Hidden Beach
22. Kice...Of Couse/Thumpin'/Smacks
23. Raheem Devaughn/Guess Who Loves You More/Virgin
24. 2 For 5/I Don't Sweat It/Cajo Communications (Contact: fu_promo@yahoo.com)
25. Eric Sermon/Bombdigi (BT RMX)/Tableturns
Top Adds (New Joints Played Live On That Week's Broadcast)
1. Black Market Militia/Harlem Lullaby/Nature Sounds
2. Dakah Hip-Hop Orchestra feat. Guru/Its a Jazz Thing/Scion Audio
3. Hell Razah & 4th Disciple/Article 1/X-Ray Records
4. Geto Boys/The G-Code/Rap-a-Lot Records
5. Mathematics feat. Wu-Tang Clan/Spotlight/Nature Sounds
6. Vivian Green/I Like It (I Don't Need It)/Columbia
7. Doujah Raze feat. Mista Sinista/NYC/Trilogy on Wax Records
8. Bootcamp Clik/Night Riders (9th Wonder RMX)/Duckdown Records
9. Stimuli/Switch Sides/UndaWorld Music & Virgin
10. Freddie Foxx/Why/White Label
11. Camp Lo/Gotcha/Villa Entertainment
12. Beatminerz feat. Last Emporer/Mafia Don/Studio Distribution
13. Dakah Hip-Hop Orchestra/The Gangstarr Variations/Scion Audio
14. Cise feat. Sytles P/I'm Black/Wall Street Entertainment
15. Exile & Lokey/Sinking Ship/A Mixt Ape Records
Old School Joints (Put Together By Jon Judah & DJ Fusion of the FuseBox Radio Broadcast, joints we haven't played in a while on the show or just wanted to reminisce on)
Killa Priest/One Step/Loud
DJ Spooky & Killa Priest/Degree Zero/Outpost Recordings
Killa Priest/B.I.B.L.E./Loud
Tragedy Khadafi/Eloheem/Solid Records
Tragedy Khadafi/Intelligent Hoodlum/A&M Records
Freddie Foxx feat. Nas/Turn Up The Mic/Fat Beats
Jimi Hendrix/Who Knows/Capitol
Lauryn Hill/Final Hour/Ruffhouse
Jazzy Jay/Def Jam/Def Jam Recordings
Run DMC/Tougher Then Leather/Profile
KRS-1/We Will Rock You (Rock Rap RMX)/Cleopatra Records
Malcomlm McLaren/Buffalo Gals/Island
The Meters/Cissy Strut/Josie Records
Chill Rob G/The Power/Wild Pitch
Soul II Soul/Keep On Movin'/Virgin
Salt 'N Pepa/Hyped on the Mic/Next Plateau Records
Mase feat. P. Diddy/Breath Strech Shake/Bad Boy Records
Parliment/Swing Down Sweet Chariot (Live)/Casablanca
Prince/Under The Cherry Moon/White Label
Jan Hammer/Miami Vice Theme/MCA Records
Bob Marley/Time Will Reveal/Tuff Gong
Fugees/Killing Me Softly/Ruffhouse
New Edition/If It Isn't Love/MCA
Mongo Sanamaria/Look Away/Atlantic
Fred Wesley & The JBs/I'm Paying Taxes, What Am I Buyin'/Polydor
Brand New Heavies/Stay This Way/Delicious Vinyl
Floetry feat. Mos Def/Wanna B Where You R/Interscope
Lauryn Hill/Every Ghetto Every City/Columbia
Salt 'N Pepa/My Mic Sounds Nice RMX/Next Plateau Records
Queen Latifah feat. De La Soul/Mama Gave Birth to Soul
Children/Tommy Boy Records
Boogie Down Productions/Jimmy(Live)/Jive
PLUS Some Extra Special Hidden Tracks in the Jon Judah (aka Ausar Ra Black Hawk) Master Mix w/ Old School Black Music Classics and Independent Music Finds
Current FuseBox Radio Broadcast Radio & Internet Affiliates
Subscribe to get the weekly episodes of the syndicated FuseBox Radio Broadcast with DJ Fusion & Jon Judah!
Listen to the latest weekly episodes of the syndicated FuseBox Radio Broadcast w/DJ Fusion & Jon Judah via Stitcher Radio!
Listen to the latest weekly episodes of the syndicated FuseBox Radio Broadcast w/DJ Fusion & Jon Judah via Tune In Radio!