This is the latest, BRAND NEW episode of the syndicated FuseBox Radio Broadcast with DJ Fusion & Ausar Ra Black Hawk for the week of June 17, 2015 with some new and classic music from the international Black Diaspora, news and commentary.
This week's radio show breakdown (by minutes/hours):
0:00 - 1:31:11 Introduction & Extended Commentary
1:31:12 - 2:58:19 DJ Fusion Mix
** NOTE: THIS IS THE FIRST TIME WE'VE EVER DONE A TOTALLY EXPLICIT COMMENTARY FOR THIS WEEK'S RADIO SHOW IN REGARDS TO LANGUAGE DUE TO THE INSANITY OF THE RECENT NEWS CYCLE. **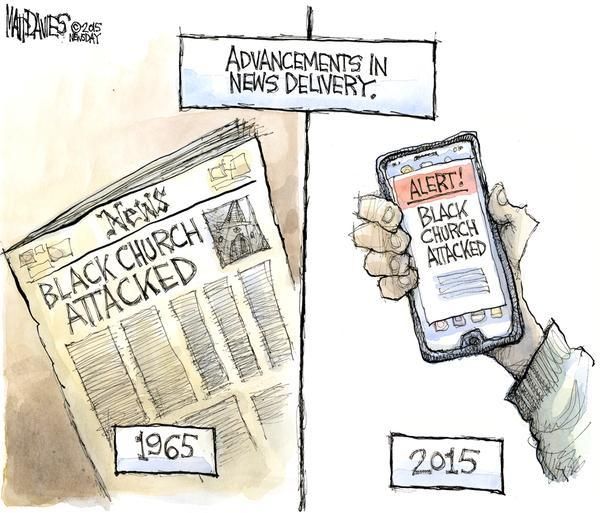 The commentary this week touched base on the role of independent Black American media and our views as a whole during what really felt like a past few days of utterly "Black Bodies and Minds Aren't REALLY Treasured by damned near anyone" news, including the upcoming savage displacement of Blacks of Haitian descent in the Dominican Republic, the utterly boneheaded responses from folks of all backgrounds to the blackface act of Rachel Dolezel (and pretty much being told that "blackness" can be put on like a hat when convenient as long as you're white and should be an honor as long as people are "down for the cause"), more situations of blatant discrimination against young Black children in the U.S. and the horrendous act of domestic terrorism in Charleston, SC at the Emanuel African Methodist Episcopal Church. We also talked about a few popular culture things to round off the show's talk segment, including the upcoming Janet Jackson tour and her career as a whole through the years.
There is no brand new Black Agenda Report news mini-segment on this week's episode due to our long commentary.
Feel free to check out some recent episodes of the syndicated FuseBox Radio Broadcast over at our official blog, BlackRadioIsBack.com - all of the shows are clean/radio friendly.
FuseBox Radio Playlist + Charts for the Week of June 17, 2015
Joints Played Live On This Week's Broadcast by DJ Fusion [tunes listed by artist/song title/label(s) in order]
1. EMPD vs. Eric Clapton - I Shot The Business (JoeyKrash Mash Mix)/White Label
2. Bilal/Satellites/BBE
3. Koyto feat. Phil Da Agony/Once Again/Grovefellas.net
4. Kendrick Lamar/Alright/Aftermath & Interscope
5. Jaga Jazzist/Starfire/Ninja Tune
6. Quantic presents The Western Transient/Creation (East L.A.)/Tru Thoughts
7. Donnie Trumpet & The Social Experiment/Wanna Be Cool/DonnieTrumpet.com
8. Wiley/From The Outside (Special Request VIP)/Big Dada
9. Giorgio Moroder feat. Charli XCX/Diamonds/RCA
10. Juxtapose/Technometry (Opolopo RMX)/Heard and Felt
11. The Alchemist & Oh No feat. Phantogram/K.Y.S.A./Mass Appeal
12. Seven Davis Jr./Wild Hearts/Ninja Tune
13. Camp Lo/Bright Lights/Nature Sounds
14. Melanie Fiona/Bite The Bullet/Title 9, Primary Wave & BMG
15. CZARFACE (Inspectah Deck + 7L & Esoteric) feat. DOOM/Ka-Bang/Brick
16. Hudson Mohawke/Ryderz/Warp Records
17. Gods'Illa feat. Stic Man & Joe.D/Plugged/HipNOTT Records
18. Jared Evan feat. Reks & Skyzoo/Etch-A-Sketch/Zone 4 & Interscope
19. Bishop Nehru/Somebody Waits/Mass Appeal
20. The Mood Doctors/Time Refill/Pandemonium Wreckordz
21. A Tribe Called Red feat. Hellnback/The People's Champ/Radicalized Records & Pirates Blend In Canada
22. Database/Cool Kids/Life On Planes Records
Top Request (Music Requested By The Listeners + Music Still Lasting in Rotation)
1. CZARFACE (Inspectah Deck + 7L & Esoteric) feat. Method Man/Nightcrawler/Brick
2. Pete Rock/Heaven and Earth/Mello Music Group
3. Alchemist/The Type/ALC Records
4. Earl Sweatshirt/Up Top/Tan Cressida & Columbia Records
5. J-Live/Mic Singletary/Moriter Music
6. Illa J/Strippers/Bastard Jazz
7. Roisin Murphy/Exploitation/Play It Again Sam
8. Banks/Change (Jensen Sportag RMX)/Harvest & Good Years
9. Raekwon feat. Ghostface Killah & Rick Ross/Revory (Wraith)/Ice H2O & Caroline
10. Mega Ran & Storyville (Soul Veggies) feat. Esoteric, Reks & Reef the Lost Cause/Artillery/Brick Records
11. J. Sands feat. Main Flo & Dank/I Got Some Weed/B.U.K.A. Ent.
12. Royal/Across 110th St/AllTheWayRoyal.com
13. Jaga Jazzist/Oban/Ninja Tune
14. Alabama Shakes/Dunes/Rough Trade Records, ATO Records & MapleMusic Recordings
15. Annabel (lee)/Breathe Us/Ninja Tune
16. Tuxedo/Do It (Flaunt Edwards Edit)/Stones Throw
17. Empire Cast feat Jussie Smollett & Yazz/You're So Beautiful (Danger Ultra RMX)/White Label
18. Vic Mensa feat. Kanye West/U Mad/Def Jam
19. Bizz The Prince feat. Inspectah Deck/Break The Walls/White Label
20. 80s Babies/3Fifths/Tall Black Guy Productions
21. Sly and Robbie and Spicy Chocolate feat. Ce'Cile/Let Me Love You/VP
22. Art of Ballistics/Take It On Faith/Lowatt
23. Hiatus Kaiyote/Shaolin Monk Motherfunk/Flying Buddha & Sony
Current FuseBox Radio Broadcast Radio & Internet Affiliates
Subscribe to get the weekly episodes of the syndicated FuseBox Radio Broadcast with DJ Fusion & Jon Judah!
Listen to the latest weekly episodes of the syndicated FuseBox Radio Broadcast w/DJ Fusion & Jon Judah via Stitcher Radio!
Listen to the latest weekly episodes of the syndicated FuseBox Radio Broadcast w/DJ Fusion & Jon Judah via Tune In Radio!