This week's radio show breakdown (by minutes/hours):
0:00 - 58:23 Introduction & Extended Commentary
58:23 - 2:15:55 DJ Fusion Mix
2:15:55 - 3:17:15 Ausar Ra Black Hawk Mix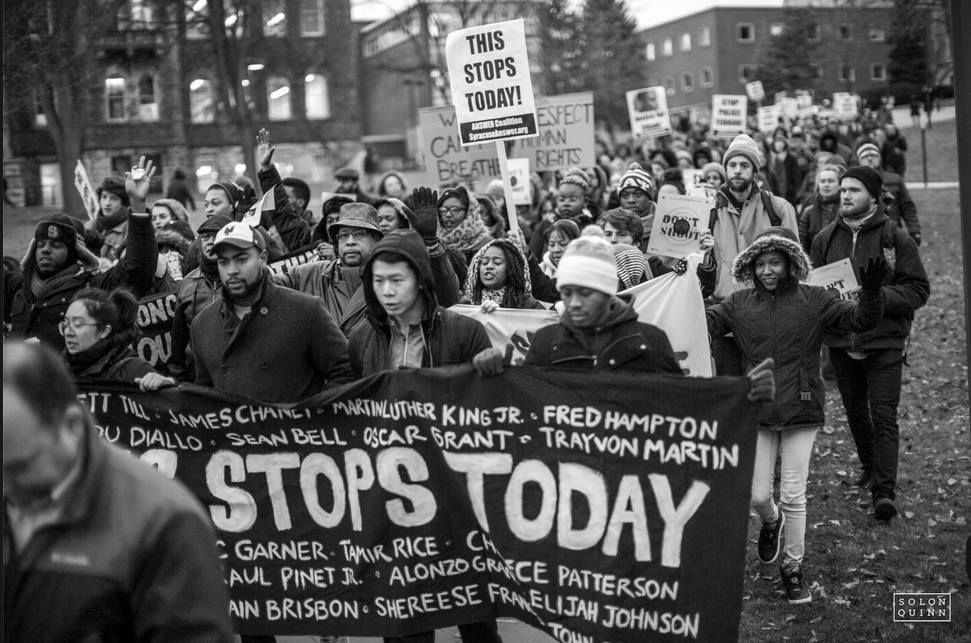 The commentary during that week (solo by DJ Fusion) during the show after being back from a LOT of things touched base mainly on the death of Freddie Gray in Baltimore, Maryland (yet another suspicious death via law enforcement on an African-American men in the U.S.) and it's after effects in the area (the #BaltimoreUprising, riots and why they occur, political and mainstream media responses & actions to the present, it's part in the history of American protest at large, the hypocrisy about whose lives are most important to preserve depending on race & class (and position), the weirdness of the Internet with this latest situation and respectability politics, what is it going to take to make folks acknowledge that this pattern of negative behaviors needs to be resolved on an institutional level and more).
There is no brand new Black Agenda Report news mini-segment on this week's episode due to the special commentary.
FuseBox Radio Playlist for the Week of June 14, 2016 [originally broadcast during the Week of April 29, 2015]
DJ Fusion Flashback Track:
Boogie Down Productions/Part Time Sucker/Jive
Top Adds (New Joints Played Live On This Week's Broadcast by DJ Fusion) [listed by artist/song title/label(s) in order]
1. Earl Sweatshirt/Up Top/Tan Cressida & Columbia Records
2. Mega Ran & Storyville (Soul Veggies)/Artillery/Brick Records
3. J-Live/Mic Singletary/Moriter Music
4. Alabama Shakes/Don't Wanna Fight/Rough Trade Records, ATO Records & MapleMusic Recordings
5. The Alchemist & Oh No feat. Phantogram/K.Y.S.A./Mass Appeal
6. Jaga Jazzist/Oban/Ninja Tune
7. Camp Lo/Bright Lights/Nature Sounds
8. Illa J/Strippers/Bastard Jazz
9. Tuxedo/Do It (Flaunt Edwards Edit)/Stones Throw
10. Roisin Murphy/Exploitation/Play It Again Sam
11. Empire Cast feat Jussie Smollett & Yazz/You're So Beautiful (Danger Ultra RMX)/White Label
12. Vic Mensa feat. Kanye West/U Mad/Def Jam
13. The Mood Doctors/Time Refill/Pandemonium Wreckordz
14. Sly and Robbie and Spicy Chocolate feat. Ce'Cile/Let Me Love You/VP
15. 80s Babies/3Fifths/Tall Black Guy Productions
16. Bizz The Prince feat. Inspectah Deck/Break The Walls/White Label
17. Banks/Change (Jensen Sportag RMX)/Harvest & Good Years
PLUS Some Extra Special Hidden Tracks in the Ausar Ra Black Hawk Master Mix w/ Old School Black Music Classics and Independent Music Finds
Current FuseBox Radio Broadcast Radio & Internet Affiliates
Subscribe to get the weekly episodes of the syndicated FuseBox Radio Broadcast with DJ Fusion & Ausar Ra Black Hawk!
Listen to the latest weekly episodes of the syndicated FuseBox Radio Broadcast w/DJ Fusion & Jon Judah via Stitcher Radio!
Listen to the latest weekly episodes of the syndicated FuseBox Radio Broadcast w/DJ Fusion & Jon Judah via Tune In Radio!