Direct mp3 Download
(right click and "save as")
Direct mp3 Download Backup
(right click and "save as"; via
Blip.TV
)
This is the latest episode of the syndicated
FuseBox Radio Broadcast
with DJ Fusion & Jon Judah for the week of June 17, 2009 with some new and classic Hip-Hop & Soul Music, news and commentary.
Our commentary this week focused on the shoooting incident by a white supremacist at the National Holocaust Mueseum in Washington, DC and the racial repercussions beforehand and after wards along some other things here and there.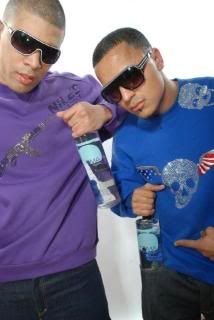 This week, we had a great interview with independent Hip-Hop and Reggaton crew Lokixximo (
http://www.myspace.com/lokixximo
) .
Some of the topics we covered during the interview included information on Lokixximo's family & musical influences as Hip-Hop & Reggaeton artists (especially being Bronx, NY representatives), the crew's success as a purely independent entity as a label with international touring, musicial collaboration and major sponsorships (and what other musicians can learn from their work and struggle), some upcoming mixtape and album projects in the future and a lot of other things!
Due to the length of this week's interview, we do not have new Black Agenda Report or Direct EFX segments this week.
Feel free to check out
some recent episodes of the syndicated FuseBox Radio Broadcast here on BlackRadioIsBack.com - all of the shows are clean/radio friendly
.
FuseBox Radio Playlist for Week of June 17, 2009 (in no particular order)
Nas/Street Dreams (Fantastischen Vier RMX)/Ill Will & Def Jam
Fort Knox Five feat. Asheru/Insight/Fort Knox Five
Amerie/Why R U/Def Jam
La Coka Nostra feat. Bun B/Choose Your Side/Suburban Noize Recordings
Sabatta/Raw/MySpace.com White Label (
http://www.sabatta.net
)
Fudgie Springer/Money/Vybz Machine Intl.
Wu-Tang Clan feat. Ghostface Killah, AZ & Inspectah Deck/Harbormasters/Wu-Tang & E1
Breeze Brewin' (of the Juggaknots)/P.P.T./White Label (
http://http://www.myspace.com/juggsmusic
)
Johnny Polygon/Daydreamin'/Future Green Records & Invasion Music Group
M.O.P/ feat. Busta Rhymes/Blow The Horns/E1
Chicago Jones/The Weekend Begins/8th Chamber Recordings (
http://www.myspace.com/piffjones
)
Boy Wonder/Idiot/
RiecesPieces.com
Lokixximo/Abuelita/Jet Speed Records
Daria Jones/This Time You Lose/White Label (
http://www.myspace.com/dariajonesmusic
)
Mama's Mustache/Heavy Metal/White Label (
http:/www.myspace.com/mama39smustache
)
Pitbull/I Know You Want Me (Calle Ocho)/Ultra
NOE/Gladiator/Byrdgang
Lokixximo feat. DJ Mesta/Noche Europa/Lokixximo Music
M. Beezy feat. Ole-E & T-Pain/2Nite 2Nite 2Nite/Low Key Key Figures
Funkghost/The Way I Rock My Clothes (inst.)/Grand Extravaganza Ent.
Swazy Baby/Half of It (inst.)/Slip-N-Slide
Jus Bleezy feat. T-Pain/I Gotta Tell Her (inst.)/JB Entertainment
CL Smooth/Da Piano (inst.)/White Label
S. Fresh/Shawty Really Luv It (inst.)/So Slimm Ent.
Buckshot & Kardinal Offishall/I Got Cha Open '09 (Smirnoff Ice RMX inst.)/White Label
Mike Epps/Trying To Be A Gangsta (inst.)/Koch
Dolla/Feelin' Myself (inst.)/Koch & Jive
Pitbull feat. Pharell/Blanco (inst.)/Polo Grounds & J Records
Black Eyed Peas/I Gotta Feeling (inst.)/Will.I.Am Music Group & Interscope
LMFAO/Yes (inst.)/Party Rock & Interscope
Duo Live/Give & Take (inst.)/Redemption Music Group
Cymarshall Law & Mr. Joeker/Love Sex or What (inst.)/Freedom Ent.
PLUS Some Extra Special Hidden Tracks in the Jon Judah Master Mix w/ Old School Classics and more MySpace.com Independent Music Finds
Current FuseBox Radio Broadcast Radio & Internet Affiliates (as of this week):

UrbanNetwork.com's The Mix Internet Radio Station - UN Power Jam Radio (owned by Urban Network Magazine) OKRP.com, ReeWineMusic.com/ReeWine Radio, Progressive Blend Radio, Sprint Radio Extra/mSpot (via the Worldwide Alpha Communications Network), SouthBound.FM, DeadBeat Radio, CrackAudio.com, TheBestJams.com/The Best Jams Radio, FlyTunes.FM/FlyCast ,Planet Urban (Austrailia)/PlanetUrban.com.au, AmalgamDigital.com, BlockJams.com, ConspiracyUK.com , FONYE Radio , VI Radio , DurdeeSouthRadio.com , Beyond.FM , MyBlockRadio.net, Rutgers University Radio, WRSU 88.7 FM, Stop Beefin' Start Eatin' Radio, Ceesiety Radio, Mixshow Blast Radio, Slip-N-Slide DJs Podcast, The Best Jams, ExtravaGangsta Radio, HipHopSoulRadio.com , Digiwaxx Presents: The Blast , White Folks Get Crunk for DJs, Legion Music & Media, UnderWorldMixRadio.com, MixLaWax Radio, Trunk Hustlers Online, 907 Jamz. The6.FM, Nilo Radio, 1.FM Jamz, Blayze University Radio, Blip.TV, iBlog126.com, Miro, WSOUF.com, True Fire Radio, StreetsD.com (Streets Mos Magazine Radio), Rock The Dub, Last Word Online, Soul Pitch Hustle, Black Soul Rhythms, Honey Magazine, i95.FM, The PRess Junkie, BlackCoffeeChannel.com (Coming Soon), Gutta Muzik (HD) Radio (Coming Soon)



** Most Stations/Outlets Tracked via RadioWave Monitor, Mediaguide & SoundExchange **
Subscribe to get the weekly episodes of the syndicated FuseBox Radio Broadcast with DJ Fusion & Jon Judah!