What's going on BlackRadioIsBack.com & FuseBox Radio Broadcast Crew - hope the week has been going pretty well so far. :)

We've been working on a lot of projects recently and this is one of them...support if you can and are feeling the concept!
The COONBUSTERS campaign of upcoming anti-iCoonery T-Shirt designs and mixtapes was a collaboration initiated by DJ Fusion of the syndciated FuseBox Radio Broadcast/BlackRadioIsBack.com and the Fresh Connection Designs Clothing Company (http://www.FreshConnectionDesigns.com) since the acceptance of ego tripping in the public eye, showing off rented jewelry and homes on TV and doing ridiculous dances became the new lifestyle.

Since the creation of Hip-Hop, emcees, rappers, producers, graffiti artists, DJs and fans have all contributed their talents to the culture.

With their talents comes reckless behavior.

It plagues thousands upon thousands of Entertainers, Athletes and Business Professionals worldwide.

What is it?

COONERY!

Coonery is one of the more lethal Pandemics of the 21st century among African Americans.

The shucking and jiving of many African American talents within Hip-Hop, the Entertainment Industry and their fans has gradually overwhelmed the airwaves, television screens and the streets.

Many of our younger generation are "Swag Surfin'" along to music videos rather than learning, enjoying & appreciating knowledge about the originators of Hip-Hop, R&B, Jazz and other forms of Black/Urban Music (much less being exposed to current people on the entertainment scene).

"Who You Gonna Call?" to stop the buffoonery in the entertainment industry?

COONBUSTERS!

The buffoonery acts of rappers, entertainers and athletes will hopefully at least have people think about what sort of "entertainment" effects has on ourselves and others with the COONBUSTERS line of T-Shirts & mixtapes when people hear and see them out in your area.

COONBUSTERS….Coming to save the GAME one move at a time starting August 2009!
To check out & purchase the latest men's & women's designs of the anti-iCoonery T-Shirt Line (which are on SALE NOW), you can go directly to this link on the Fresh Connection Designs Website here.


The first round of T-Shirts are on SALE NOW & will come with a Limited Edition printing of the Fresh Connection Designs + FuseBox Radio Collaboration Mixtape (hosted & mixed by DJ Fusion & Jon Judah) called

Anti-Audio iCoonery Vol. 1: CoonBusters

that has a mix of old & new school Hip-Hop & R&B music vibes.

Feel free to share, post up on your website or blog, download, etc. the mixtape from the FREE links below & let us know what you think after giving the project a listen through our preview players & streams - hope you enjoy it!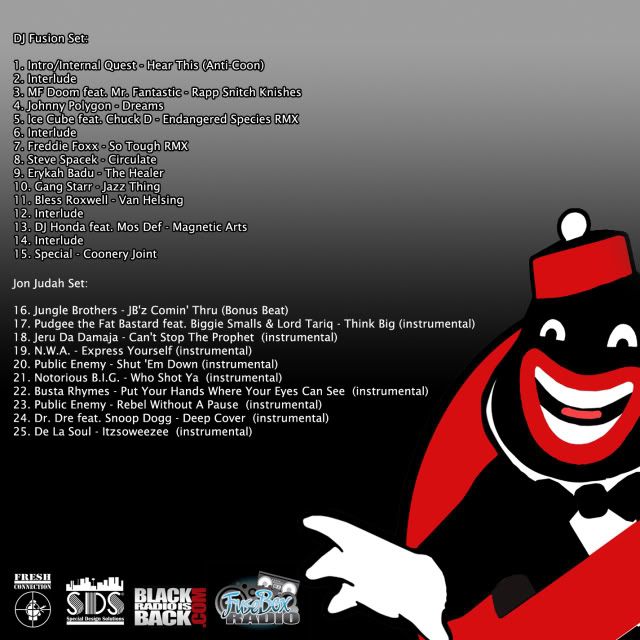 Anti-Audio iCoonery Vol. 1: CoonBusters Mixtape
Hosted & Mixed By DJ Fusion & Jon Judah (FuseBox Radio/BlackRadioIsBack.com) + Fresh Connection Designs



Anti-Audio Icoonery Vol. 1: Coonbusters by Fuseboxradio on Mixcloud




Download Link (Podcast Ready mp3 via DivShare)
Download Link (zip file w/ separate mp3s, tracklisting & cover
via DivShare
)
Mixcloud.com Link (to listen to stream of full mixtape)


Tracklisting

DJ Fusion Set:

1. Intro/Internal Quest - Hear This (Anti-Coon)
2. Interlude
3. MF Doom feat. Mr. Fantastic - Rapp Snitch Knishes
4. Johnny Polygon - Dreams
5. Ice Cube feat. Chuck D - Endangered Species RMX
6. Interlude
7. Freddie Foxx - So Tough RMX
8. Steve Spacek - Circulate
9. Erykah Badu - The Healer
10. Gang Starr - Jazz Thing
11. Bless Roxwell - Van Helsing
12. Interlude
13. DJ Honda feat. Mos Def - Magnetic Arts
14. Interlude
15. Special - Coonery Joint

Jon Judah Set:

16. Jungle Brothers - JB'z Comin' Thru (Bonus Beat)
17. Pudgee the Fat Bastard feat. Biggie Smalls & Lord Tariq - Think Big (instrumental)
18. Jeru Da Damaja - Can't Stop The Prophet (instrumental)
19. N.W.A. - Express Yourself (instrumental)
20. Public Enemy - Shut 'Em Down (instrumental)
21. Notorious B.I.G. - Who Shot Ya (instrumental)
22. Busta Rhymes - Put Your Hands Where Your Eyes Can See (instrumental)
23. Public Enemy - Rebel Without A Pause (instrumental)
24. Dr. Dre feat. Snoop Dogg - Deep Cover (instrumental)
25. De La Soul - Itzsoweezee (instrumental)



** NOTE: More of these mixtapes & T-Shirts are coming out this year, so music artists of all music genres interested in hosting one of these projects, having your music considered or supplying drops on future releases, PLEASE contact us at blackradioisback@gmail.com, ATTN: "Anti-iCoonery Project"...thanks! **



Fresh Connection Designs Official Website