Direct mp3 Download
(right click and "save as")
Direct mp3 Download Backup
(right click and "save as"; via
Blip.TV
)
This is the latest episode of the syndicated
FuseBox Radio Broadcast
with DJ Fusion & Jon Judah for the week of August 12, 2009 with some new and classic Hip-Hop & Soul Music, news and commentary.
Our commentary this week focused on Hip-Hop "Beef" in the YouTube/UStream generation, the U.S. "Town Halls" about Health Care and how they're becoming a huge barometer of the issues people still have with race & class in this country, the passing of Eunice Kennedy Shriver (founder of the Special Olympics) and some other things here & there.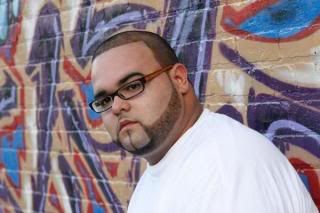 This week, we had in interview with independent Hip-Hop MC LuGuz (
http://www.myspace.com/luguz
).
Some of the topics that we covered with this talented perofrmer included his background in music and Hip-Hop, his influences, the latest LuGuz mixtape projects (The Rock Premier 1 & 2) & upcoming album, the New Jersey Hip-Hop scene, working as an independent MC in the internet age successfully and some more!
This week we don't have new Black Agenda Report segment due to the length of our interview. The Direct EFX segments will return at the end of the HBCU's college summer break period in September 2009.
Feel free to check out
some recent episodes of the syndicated FuseBox Radio Broadcast here on BlackRadioIsBack.com - all of the shows are clean/radio friendly
.
FuseBox Radio Playlist for the Week of August 12, 2009 (in no particular order)
Poor Righteous Teachers feat. KRS-One/Conscious Style/White Label
DJ Honda feat. Mos Def/Magnetic Arts/DJ Honda Recordings
Willie The Kid/Aviation/Aphilliates Music Group & Embassy Entertainment
The Meters/Here Comes the Meter Man/White Label
Michael Jackson/ABC (Salaam Remi RMX)/Motown
Whitney Houston/Million Dollar Bill/J Records
Lil' Dave/Cafe Cubana/Record Breakin' (
http://www.recordbreakin.com
)
Freeway/Old 2 The New/Free Money
Georgia Ann Muldrow/Roses Pt. 2/E1
Wayne Wonder/Back Biters (Move Star Riddim)/VP Records
Slaughterhouse feat. Fatman Scoop/Onslaught 2/E1
LuGuz/Piece of Your Fame/LuguzMusic, Starscream Productions & Eastwick Records (
http://www.myspace.com/luguz
)
KRS-One & Buckshot feat. DJ Revolution/Survival Skills/Duckdown
LuGuz/Hands On The Wall/LuguzMusic, Starscream Productions & Eastwick Records (
http://www.myspace.com/luguz
)
Pitbull/Calle Ocho (DJ Pistelero RMX)/White Label (
http://www.myspace.com/djpistolero
)
Mary J. Blige/Stronger (inst.)/Geffen
Scientific The Rap God/Boomerang (inst.)/Life Music Group
DJ Jazzy Jeff/We Live In Philly (inst.)/BBE
Jay-Z/Heart of the City (inst.)/Rocafella & Def Jam
PLUS Some Extra Special Hidden Tracks in the Jon Judah Master Mix w/ Old School Classics and more MySpace.com Independent Music Finds
Current FuseBox Radio Broadcast Radio & Internet Affiliates (as of this week):

UrbanNetwork.com's The Mix Internet Radio Station - UN Power Jam Radio (owned by Urban Network Magazine) OKRP.com, ReeWineMusic.com/ReeWine Radio, Progressive Blend Radio, Sprint Radio Extra/mSpot (via the Worldwide Alpha Communications Network), SouthBound.FM, DeadBeat Radio, CrackAudio.com, TheBestJams.com/The Best Jams Radio, FlyTunes.FM/FlyCast ,Planet Urban (Austrailia)/PlanetUrban.com.au, AmalgamDigital.com, BlockJams.com, ConspiracyUK.com , FONYE Radio , VI Radio , DurdeeSouthRadio.com , Beyond.FM , MyBlockRadio.net, Rutgers University Radio, WRSU 88.7 FM, Stop Beefin' Start Eatin' Radio, Ceesiety Radio, Mixshow Blast Radio, Slip-N-Slide DJs Podcast, The Best Jams, ExtravaGangsta Radio, HipHopSoulRadio.com , Digiwaxx Presents: The Blast , White Folks Get Crunk for DJs, Legion Music & Media, UnderWorldMixRadio.com, MixLaWax Radio, Trunk Hustlers Online, 907 Jamz. The6.FM, Nilo Radio, 1.FM Jamz, Blayze University Radio, Blip.TV, iBlog126.com, Miro, WSOUF.com, True Fire Radio, StreetsD.com (Streets Mos Magazine Radio), Rock The Dub, Last Word Online, Soul Pitch Hustle, Black Soul Rhythms, Honey Magazine, i95.FM, The PRess Junkie, BlackCoffeeChannel.com (Coming Soon), Gutta Muzik (HD) Radio (Coming Soon)



** Most Stations/Outlets Tracked via RadioWave Monitor, Mediaguide & SoundExchange **
Subscribe to get the weekly episodes of the syndicated FuseBox Radio Broadcast with DJ Fusion & Jon Judah!