Direct mp3 Download
(right click and "save as")
Direct mp3 Download Backup
(right click and "save as"; via
Blip.TV
)
This is the latest episode of the syndicated
FuseBox Radio Broadcast
with DJ Fusion & Jon Judah for the week of November 17, 2009 with some new and classic Hip-Hop & Soul Music, news and commentary.
Our commentary this week focused on the terrible situation with
the death of 5 year old Shaniya Davis in North Carolina
,
Sammy Sosa's obvious issues with skin color (SMH at the bleaching scenario saying it was a "skin softening treatment" later on)
and how that reflects on the ingrained "if you're Black, get back" physical mentality along with some other things here and there.
We had another great interview this week with author, businessman & activist Professor Devin Robinson (
http://www.DevinRobinson.com
) of Going Against The Grain Group (
http://www.IAmGoingAgainstTheGrain.com
), Taking it Black University (
http://www.TakingItBackBlack.com
) and The Black Hair Project.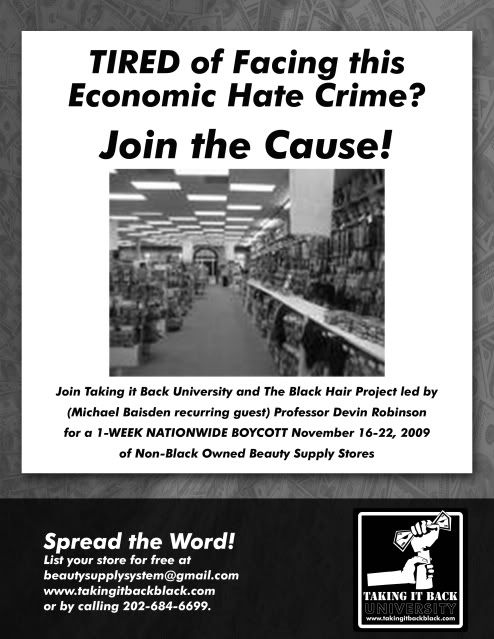 We touched base on the current 1 week national U.S. boycott of non-Black owned Beauty Supply stores and how that ties into what Prof. Robinson calls a constant "economic hate crime" that occurs all over the United States to the Black Community in regards to the road blocks in establishing one's own businesses in comparison to other ethnic groups, the exchange of money within the community and other things here and there!
There are new episodes of
Black Agenda Report
and
Direct EFX
segments this week.
Feel free to check out
some recent episodes of the syndicated FuseBox Radio Broadcast here on BlackRadioIsBack.com - all of the shows are clean/radio friendly
.
FuseBox Radio Playlist for Week of November 17, 2009 (in no particular order)
Ed O.G. & Da Bulldoggs/Dedicated to the Right Wingers/Polygram
Rakim/Put It All To Music/Ra Recordings & SMC
Fly Gypsy/2 Step/
FlyGypsy.com
Reggie Noble Presents Redman feat. Ready Roc/Coc Back/Gilla House & Def Jam
DOOM/Sniper Elite/Gold Dust & Stones Throw
Nneka/Beautiful/Yo Mama, Decon & Epic
Dynas feat. Slick Rick/Family Jewels/BBE
Tommy T/Oromo Dub (Cushtic Dub)/Easy Star Records
The Very Best/Warm Heart of Africa (Jorge Elbrescht of Violens RMX)/Green Owl
Earl Greyhound/Oye Vaya/
EarlGreyHound.com
Glen Washington/Vibes/Greensleeves Records
DJ Vadim feat. Juice Lee & Rjay/That Lite (Astronote RMX)/BBE
Chaundon/You Already Know/
IAmChaundon.com
David E. Beats/Over Here/I AM PR Agency
Shonie/Lights, Camera, Action/Slick Salt Ent., Slip-N-Slide Records & Def Jam
Dirty Money feat. Notorious B.I.G./Angels (inst.)/Bad Boy & Atlantic
Whitney Houston/Million Dollar Bill (inst.)/J Records
PLUS Some Extra Special Hidden Tracks in the Jon Judah Master Mix w/ Old School Classics and more MySpace.com Independent Music Finds
Current FuseBox Radio Broadcast Radio & Internet Affiliates (as of this week):

UrbanNetwork.com's The Mix Internet Radio Station - UN Power Jam Radio (owned by Urban Network Magazine) OKRP.com, ReeWineMusic.com/ReeWine Radio, Progressive Blend Radio, Sprint Radio Extra/mSpot (via the Worldwide Alpha Communications Network), SouthBound.FM, DeadBeat Radio, CrackAudio.com, TheBestJams.com/The Best Jams Radio, Radio CPR 97.5 FM, FlyTunes.FM/FlyCast ,Planet Urban (Austrailia)/PlanetUrban.com.au, AmalgamDigital.com, BlockJams.com, ConspiracyUK.com , FONYE Radio , VI Radio , DurdeeSouthRadio.com , Beyond.FM , MyBlockRadio.net, Rutgers University Radio, WRSU 88.7 FM, Stop Beefin' Start Eatin' Radio, Ceesiety Radio, Mixshow Blast Radio, Slip-N-Slide DJs Podcast, The Best Jams, ExtravaGangsta Radio, HipHopSoulRadio.com , Digiwaxx Presents: The Blast , White Folks Get Crunk for DJs, Legion Music & Media, UnderWorldMixRadio.com, MixLaWax Radio, Trunk Hustlers Online, 907 Jamz. The6.FM, Nilo Radio, 1.FM Jamz, Blayze University Radio, Blip.TV, iBlog126.com, Miro, WSOUF.com, True Fire Radio, StreetsD.com (Streets Mos Magazine Radio), Rock The Dub, Last Word Online, Soul Pitch Hustle, Black Soul Rhythms, Honey Magazine, i95.FM, The PRess Junkie, Planet Ill, Ground Up Radio, BlackCoffeeChannel.com (Coming Soon), Gutta Muzik (HD) Radio (Coming Soon)



** Most Stations/Outlets Tracked via RadioWave Monitor, Mediaguide & SoundExchange **
Subscribe to get the weekly episodes of the syndicated FuseBox Radio Broadcast with DJ Fusion & Jon Judah!