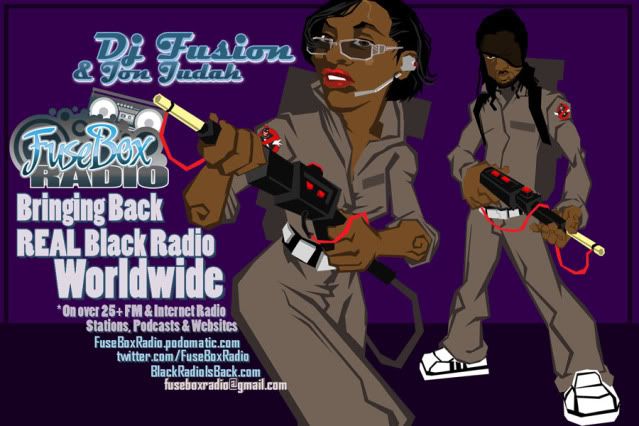 Player (via Podomatic feed):
Backup Player (via
Blip.TV
feed):
Direct mp3 Download
(right click and "save as")
Direct mp3 Download Backup
(right click and "save as"; via
Blip.TV
)
This is the latest episode of the syndicated
FuseBox Radio Broadcast
with DJ Fusion & Jon Judah for the week of March 17, 2010 with some new and classic Hip-Hop & Soul Music, news and commentary.
This week's commentary this week focused on a range of things, touching base on topics such as the
2010 U.S. Census
,
Supreme Court Justice Clarence Thomas' wife doing a spin off of the Tea Party & what that means politically and otherwise if anything
, the
FCC's proposed National Broadband Plan
,
the completely unsurprising scenario of Tiger Woods coming back to golf for the Masters Tournament
, the proliferation of side chicks who now seem to get constant press after cheating with famous or semi-famous man and act like it's all good and some other things here and there.
There are brand new episodes of the
Black Agenda Report
and
Direct EFX
segments included in this week's broadcast.
Feel free to check out
some recent episodes of the syndicated FuseBox Radio Broadcast over at our official blog, BlackRadioIsBack.com - all of the shows are clean/radio friendly
.
FuseBox Radio Playlist for the Week of March 17, 2010(in no particular order)
Large Professor/For My People/White Label (
http://www.myspace.com/TheLargeProfessor
)
Jimi Hendrix/Valleys of Neptune/Sony Legacy
J*Davey/The Alibi/White Label (
http://www.JDaveyBaby.com
)
Consequence feat. Pharoahe Monch/Let U Live/White Label (
http://www.ItsTheCons.com
)
Rahel/Hope/
MashiBeats.com
Raheem DeVaughn feat. Wale/The Greatness/368 Music Group & RCA
Jaheim/Her/Divine Mill
Redman/Lookin' Fly/Gilla House
Cubic Zirconia/Josephine (GreenMoney's Tracestep RMX)/White Label (
http://www.CubicZirconiaMusic.com
)
Willie The Kid/Adult Swim/Aphilliates Music Group & Embassy Ent. (
http://www.myspace.com/TheWillieTheKid
)
Meth, Ghost & Rae feat. Alica Keys/Our Dreams (Ant Acid RMX)/White Label
VV Brown/Everybody/Island UK
Toni Braxton/Make My Heart/
ToniBraxton.com
Nottz/Shine So Brite/
RawKoncept.com
THEESatisfaction/Moonday School (Intergalactic Church)/White Label (
http://www.myspace.com/TheeSatisfaction
)
LMNO/Chi Girl/Up Above Records
The Link Quartet feat. Gizelle Smith/If You Were My Man/Record Kicks
U-N-I feat. Miguel/Lately/Traffic Ent. Group
Heather B/The Game Don't Stop/White Label
Ty feat. Sarina Leah & Shaun Escoffery/Emotions (inst.)/BBE
PLUS Some Extra Special Hidden Tracks in the Jon Judah Master Mix w/ Old School Classics and more MySpace.com Independent Music Finds
Current FuseBox Radio Broadcast Radio & Internet Affiliates (as of this week):

UrbanNetwork.com's The Mix Internet Radio Station - UN Power Jam Radio (owned by Urban Network Magazine) OKRP.com, ReeWineMusic.com/ReeWine Radio, Progressive Blend Radio, Sprint Radio Extra/mSpot (via the Worldwide Alpha Communications Network), SouthBound.FM, DeadBeat Radio, CrackAudio.com, TheBestJams.com/The Best Jams Radio, Radio CPR 97.5 FM, FlyTunes.FM/FlyCast ,Planet Urban (Austrailia)/PlanetUrban.com.au, AmalgamDigital.com, BlockJams.com, ConspiracyUK.com , FONYE Radio , VI Radio , DurdeeSouthRadio.com , Beyond.FM , MyBlockRadio.net, Rutgers University Radio, WRSU 88.7 FM, Stop Beefin' Start Eatin' Radio, Ceesiety Radio, Mixshow Blast Radio, Slip-N-Slide DJs Podcast, The Best Jams, ExtravaGangsta Radio, HipHopSoulRadio.com , Digiwaxx Presents: The Blast , White Folks Get Crunk for DJs, Legion Music & Media, UnderWorldMixRadio.com, MixLaWax Radio, Trunk Hustlers Online, 907 Jamz. The6.FM, Nilo Radio, 1.FM Jamz, Blayze University Radio, Blip.TV, iBlog126.com, Miro, WSOUF.com, True Fire Radio, StreetsD.com (Streets Mos Magazine Radio), Rock The Dub, Last Word Online, Soul Pitch Hustle, Black Soul Rhythms, Honey Magazine, i95.FM, The PRess Junkie, Planet Ill, Ground Up Radio, BlackCoffeeChannel.com (Coming Soon), Gutta Muzik (HD) Radio (Coming Soon)



** Most Stations/Outlets Tracked via RadioWave Monitor, Mediaguide & SoundExchange **
Subscribe to get the weekly episodes of the syndicated FuseBox Radio Broadcast with DJ Fusion & Jon Judah!