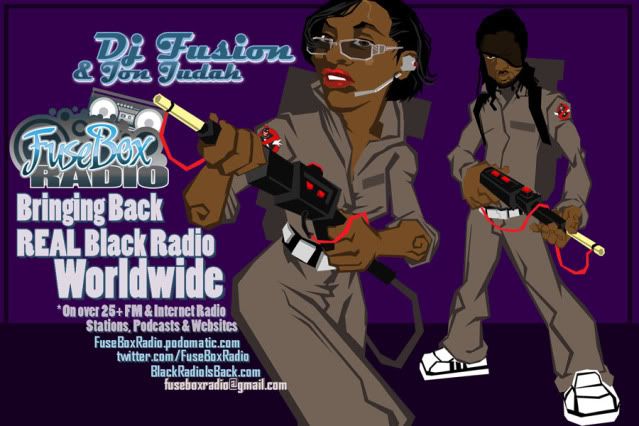 ** We had a few problems in with the studio computer for sending out this week's most recent radio show (Geek Squad repair shop, here we come), but luckily we can keep it moving. **
** This week's episode of the syndicated FuseBox Radio Broadcast is one of our many favorite flashback episodes from the vaults...hope you enjoy it! :) **
Player (via Podomatic feed):
Direct mp3 Download
(right click and "save as")
Direct mp3 Download Backup
(right click and "save as"; via
Blip.TV
)
This is the latest episode of the syndicated
FuseBox Radio Broadcast
with DJ Fusion & Jon Judah for the week of April 28, 2010 is a rebroadcast of the April 15, 2009 show which contains some Old and Classic Hip-Hop & Soul Music, news and commentary.
This commentary from that show focused on the entire mainstream media (MSM) coverage about the Somali pirate scenario, the rise of more extreme right-wing organizations in the U.S. since the election of Pres. Barack Obama (and why in a way, it's a pretty silly scenario on multiple levels in regards to being scared of certain Black People) and some other things here and there.
We had a great interview with Dave Kusek (instructor at Berklee School of Music amongst other accomplishments), the co-author of book
The Future of Music: Manifesto for the Digital Music Revolution
.
Some of the subject matter we touched on during the interview included how technology has totally changed the current state of music industry in the past 10 - 15 years, how hard working independent artists currently have some of the most optimal chances to distribute, promote and sell their music to the masses due to things like internet innovations (Web 2.0, self-distribution options for music & content, etc.), where the current music industry should change to be both profitable and give music to the people they way they want, reaching out for niche audiences (esp. in the different genres of Black Music) and more!
Please check out Mr. Kusek's official site for
The Future Of Music: Manifesto for the Digital Music Revolution
book (which also has lots of great articles about the future of the music industry) at
http://www.FutureOfMusicBook.com
!
FuseBox Radio Playlist for the Week of April 28, 2010 (directly from the week of April 15, 2009) (in no particular order)
Funky Fresh Crew feat. Afu-Ra/Drop A Jewel/Grand Central Records
Mr. Scruff feat. Pete Simpson/This Way/Ninja Tune
Mr. Lif/Folklore/Bloodbot Tactical Enterprises
DOOM/Absolutely/Lex Records
Foriegn Exchange feat. D1/Take Off The Blues/Hard Boiled Records
Kool Rock-Ski of The Fat Boys feat. Jay-Z/Can We Talk/Uncle Louie Records
Q-Tip feat. Kanye West & Consequence/We Fight We Love RMX/Universal Motown
Scratch feat. Musiq Soulchild/Tonite/Gold Dust & !K7
Busta Rhymes feat. Spliff Star & Show Money/I'm Back/Flipmode, Violator & Universal Motown
Camp Lo feat. Yahzarah/Regulate/Soul Fever
Trillogy/Warning/Starr Media Group
Balkan Beat Box/Hermetico (Dub Gabriel Kush Arora RMX)/JDub
Asher Roth feat. Cee-Lo/Be By Myself/SchoolBoy, SRC & Universal
Rick Ross feat. Nas & Kevin Cossum/Usual Suspects/Slip-N-Slide, Maybach Music & Def Jam
Mistah FAB/Teenage Thug/Faeva Afta, Thizz & Atlantic Records
David Rush feat. Pitbull & Kevin Rudolph/Shooting Star (Party Rock RMX)/Xequitive Board Ent., Mr. 305 & Koch
Vybz Kartel/Without My Own/DJ Smurf Muzic
Chae Hawk/Meal Ticket/ChaeHawk.com
Blaq Poet/Ain't Nuttin' Changed/Year Round
Ace Hood feat. Akon & T-Pain/Overtime (inst.)/We The Best & Def Jam
Skull Gang feat. Juelz Santana/I Am The Club (inst.)/Skull Gang & E1
Jim Snooka/Kill 'Em All (inst.)/Never So Deep Records
Ace Hood feat. Akon & T-Pain/Overtime (inst.)/We The Best & Def Jam
Da Union/Gimmie Ur Luv (inst.)/White Label
Stat Quo/Stylin' (inst.)/White Label
Mims feat. Letoya Luckett/Love Rollercoaster (inst.)/American King & Capitol
PLUS Some Extra Special Hidden Tracks in the Jon Judah Master Mix w/ Old School Classics and more MySpace.com Independent Music Finds
Current FuseBox Radio Broadcast Radio & Internet Affiliates (as of this week):

UrbanNetwork.com's The Mix Internet Radio Station - UN Power Jam Radio

(owned by Urban Network Magazine)

OKRP.com

,

ReeWineMusic.com/ReeWine Radio

,

Progressive Blend Radio

,

Sprint Radio Extra/mSpot (via the Worldwide Alpha Communications Network)

,

SouthBound.FM

,

DeadBeat Radio

,

CrackAudio.com

,

TheBestJams.com/The Best Jams Radio

,

Radio CPR 97.5 FM

,

FlyTunes.FM/FlyCast

,

Planet Urban (Austrailia)/PlanetUrban.com.au

,

AmalgamDigital.com

,

BlockJams.com

,

ConspiracyUK.com

,

FONYE Radio

,

VI Radio

,

DurdeeSouthRadio.com

,

Beyond.FM

,

MyBlockRadio.net

,

Rutgers University Radio, WRSU 88.7 FM

,

Stop Beefin' Start Eatin' Radio

,

Ceesiety Radio

,

Mixshow Blast Radio

,

Slip-N-Slide DJs Podcast

,

The Best Jams

,

ExtravaGangsta Radio

,

HipHopSoulRadio.com

,

Digiwaxx Presents: The Blast

,

White Folks Get Crunk for DJs

,

Legion Music & Media

,

UnderWorldMixRadio.com

,

MixLaWax Radio

,

Trunk Hustlers Online

,

907 Jamz

.

The6.FM

,

Nilo Radio

,

1.FM Jamz

,

Blayze University Radio

,

Blip.TV

,

iBlog126.com

,

Miro

,

WSOUF.com

,

True Fire Radio

,

StreetsD.com (Streets Mos Magazine Radio)

,

Rock The Dub

,

Last Word Online

,

Soul Pitch Hustle

,

Black Soul Rhythms

,

Honey Magazine

,

i95.FM

,

The PRess Junkie

,

Planet Ill

,

Ground Up Radio

,

W.O.W. Radio

,

DIRadioCast

,

SWURV Radio

,

BlackCoffeeChannel.com

(Coming Soon),

Gutta Muzik (HD) Radio

(Coming Soon)
Subscribe to get the weekly episodes of the syndicated FuseBox Radio Broadcast with DJ Fusion & Jon Judah!