What's the good word to our
BlackRadioIsBack.com
and
FuseBox Radio Broadcast
crew! :)
We're now our official
33rd
week
of working with the fine folks over at the
Planet Ill
website in doing the
Indiesent Exposure
weekly writeup & free music downloads column, where the purpose is to give some deserved props to various independent music artists from all types of different genres (Hip-Hop, Soul, Electronica, Rock, Funk, Reggae, Jazz, etc. - ALL Over the Place).
Here are all of the current articles from the series & the music artists covered in each of the articles...
Please check them out when you have the chance and
leave some comments on the site
on how you feel about the music artists and
TONS of FREE downloads
that are being offered!
Indiesent Exposure #1: K'Naan, Brittany Bosco, Phil Ade, Roy Davis Jr. & Nickodemus
Indiesent Exposure #2: Gods'Illa, Kid Koala, Noiseaux, David E. Beats & Ancient Astronauts
Indiesent Exposure #3: Jay-Z's BP3 Remixed Already, Shinobi Ninja & Jarren Benton
Indiesent Exposure #4: N'Dambi, Shafia Husayn, The Angel, Brownout & Wax Tailor
Indiesent Exposure #5: Whole Lotta Tasty Treats! (Tommy Tee, Blitz The Ambassador, Deuce Poppi, Tone Trump, theBreax & "Return of Real Black Radio Vol. 4" Mixtape Download)
Indiesent Exposure #6: The Noisettes, Activator & Ra The MC
Indiesent Exposure #7: Jully Black, Aych, Fat Daddy's Drop, Dynasty & Whitefolkz
Indiesent Exposure #8: AfroPunk Compilation Vol.2, Chaundon, Soul Majestic, Brokn.Englsh & Shalonda
Indiesent Exposure #9: Rita J, theDollDaze & Amanda Ray
Indiesent Exposure #10: Tommy T, The Very Best & R.E.U.B.
Indiesent Exposure #11: Nneka, Dynas, Res & Federico Aubele
Indiesent Exposure #12: Dukes of Daville, Ras Kass & Elucid
Indiesent Exposure #13: Breez Evaflowin, DJ Devastate, Sabatta & Blue Raspberry
Indiesent Exposure #14 : King Britt, Nicolay & DJ Bless
Indiesent Exposure #15: Indiesent Exposure 2009 Hip-Hop Viewpoint & Wrap Up: Indie Hip-Hop Music Is Having One Of The Best Times Ever…And Can Continue to Have It That Way If The Cards Are Played Right (And A Regular Old "Best/Worst/Info of 2009 Lists)
Indiesent Exposure #16 (NEW!): California Kings & Diwon
Indiesent Exposure #17 (NEW!): Salvador Santana, St. Joe Louis & Kokolo
Indiesent Exposure #18 (NEW!): Raheem DeVaughn, Dwele, Urb Alt Compilation & Turntable Science
Indiesent Exposure #19: Hey Champ! & Adrian Champion
Indiesent Exposure #20: JUDAH & Dub MD, Adult Swim
ATL RMX
LP & Nsango Malamu
Indiesent Exposure #21: Oddisee & Georg Levin
Indiesent Exposure #22: FKi & Graph Nobel
Indiesent Exposure #23: Donwill of Tanya Morgan & Cubic Zirconia
Indiesent Exposure #24: Boog Brown & Natty Nation

Indiesent Exposure #25: Johnny Polygon, Smerins Anti-Social Club & Bomani Armah
Indeisent Exposure #26: THEESatisfaction, Ty & Rahel
Indiesent Exposure #27 (NEW!): Dumbfounded, Wynton Marsalias & J-Boogie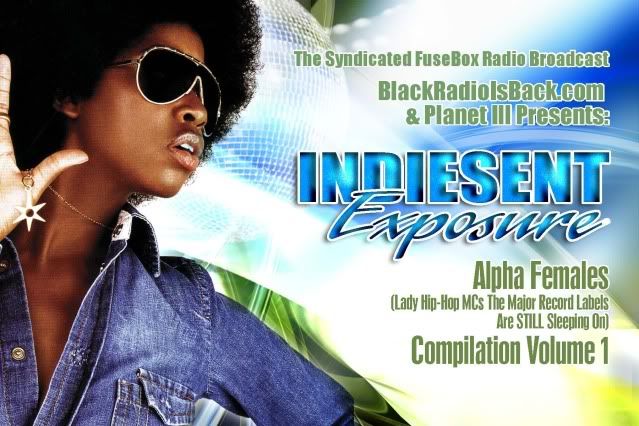 Indiesent Exposure #28 (NEW!): Alpha Females (Lady Hip-Hop MCs The Major Record Labels Are STILL Sleeping On) Compilation Volume 1
Download Link
Backup Link
The Syndicated FuseBox Radio Broadcast, BlackRadioIsBack.com and PlanetIll.com Prsents:
Indiesent Exposure: Alpha Females (Lady Hip-Hop MCs The Major Record Labels Are STILL Sleeping On) Compilation Volume 1 Tracks:
AD The General – Who I Be (N.A.N., N.A.N., N.A.N.)
Bahamadia – Commonwealth (Cheap Chicks)
Boog Brown feat. Stahhr & Mojo Swagger – Grind Season RMX
Charli Baltimore feat. DJ Premier – Everybody Wanna Know
Charli Baltimore feat. Ghostface Killah – Stand Up Feat. Ghostface
Crew Grrl Order feat. MC Lyte – All Bets Off (clean – SlamJamz Records)
Cubic Zirconia – Josephine
De La Soul feat. Queen Latifah – Mama Gave Birth To The Soul Children
Emperess – Outside The Box
Eternia feat. Ness Lee & Poodie The Byz – Do This Like Me
Fiona Simone – Fierce
Fiona Simone – Keep It Moving
Green Tea – Get Off That Road
Hedonis Da Amazon – Speaking My Mind
Hop Da Great feat. Quintescence – They Say U Nice
J. Ross Parrelli – Hey There Sister
Jay Mills – Winter Sadness
Jean Grae – The Jam
Kwan Lee feat. Mala Reignz, Miss Michelle & Elus – Livin' Our Dream
Madam Madon – Benning Rd Bomber
Mala Reignz feat. Chino Moy – Secret Surveillance
MC Lyte – I Am Woman
Mia X feat. Mystikal – Who Got The Clout
Monie Love – Pups Lickin Bone
Nikki Lynette – Loveless
Nonchalant – 5 O'Clock (DJ Heart Attack Remix)
Princess of Controversy – Why Not Today
Queen Latifah – Five on the Black Hand Side
Queen YoNasDa – So Special
RA The MC feat. Pro'Verb – Lost Ones
Rita J – Inspiration
Salt-N-Pepa – Chick On The Side RMX
Skyzoo feat. Mickey Factz & Nina B – Hit Me
Stacey Epps – Floatin'
Tiye Phoenix – Killin Everybody
PLEASE definitely explore the Planet Ill website on the regular, there are lots of great articles on news, music, politics & culture up on there!
Planet Ill Official Website:
http://www.PlanetIll.com