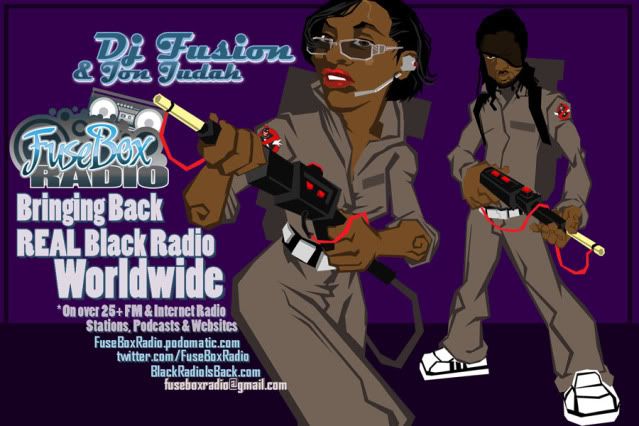 Player (via
Podomatic
feed):
Backup Player (via
Blip.TV
feed):
Direct mp3 Download
(right click and "save as")
Direct mp3 Download Backup
(right click and "save as"; via
Blip.TV
)
This is the latest episode of the syndicated
FuseBox Radio Broadcast
with DJ Fusion & Jon Judah for the week of November 10, 2010 with some new and classic Hip-Hop & Soul Music, news and commentary.
We had a great extended FuseBox Radio/BlackRadioIsBack.com interview we had this week with Houston, Texas' own MC, businessman and more, Trae The Truth (
http://www.myspace.com/TraeThaTruth
).
Some of the things we talked about with Trae Tha Truth included his background & history in the Texas area, his various family & musical influences, some of the most recent rather bugged out occurrences he's had in the music industry (including with the Radio One station down there), his good works within the community including the mayor endorsed "Trae Day", the "Can't Ban The Truth" mixtape that's now out in stores, future projects and a lot of other cool things!
FuseBox Radio Playlist for the Week of November 10, 2010 (in no particular order)
Public Enemy/Race Against Time/Def Jam
Jungle Brothers/Good News Comin'/White Label
Dennis Brown/Love Has Found Its Way/VP
Jamiroquoi/She's A Fast Persuader/Universal & Mercury
Ghostface Killah/Together Baby/Def Jam
Celph Titled & Buckwild/Miss Those Days/No Sleep Recordings
Kanye West/Who Will Survive In America/Def Jam
Faith Evans/Sunshine/E1
N.E.R.D./Perfect Defect/Star Trak & Interscope
Rob Swift/D.R.E.W./Ipepac
Trae Tha Truth/Please Respect It/G Maab
Jah C/Summer Love/Soulspazm Records
Trae Tha Truth/Can't Handle The Truth/G Maab
Elephant Man/Vampires & Informers (Kush Arora's Crypt RMX)/Subatomic Sound System
PLUS Some Extra Special Hidden Tracks in the Jon Judah Master Mix w/ Old School Black Music Classics and Independent Music Finds
Current FuseBox Radio Broadcast Radio & Internet Affiliates (as of this week):
UrbanNetwork.com's The Mix Internet Radio Station - UN Power Jam Radio

(owned by Urban Network Magazine)

OKRP.com

,

ReeWineMusic.com/ReeWine Radio

,

Progressive Blend Radio

,

Sprint Radio Extra/mSpot (via the Worldwide Alpha Communications Network)

,

SouthBound.FM

,

DeadBeat Radio

,

CrackAudio.com

,

TheBestJams.com/The Best Jams Radio

,

Radio CPR 97.5 FM

,

FlyTunes.FM/FlyCast

,

Planet Urban (Austrailia)/PlanetUrban.com.au

,

AmalgamDigital.com

,

BlockJams.com

,

ConspiracyUK.com

,

FONYE Radio

,

VI Radio

,

DurdeeSouthRadio.com

,

Beyond.FM

,

MyBlockRadio.net

,

Rutgers University Radio, WRSU 88.7 FM

,

Stop Beefin' Start Eatin' Radio

,

Ceesiety Radio

,

Mixshow Blast Radio

,

Slip-N-Slide DJs Podcast

,

The Best Jams

,

ExtravaGangsta Radio

,

HipHopSoulRadio.com

,

Digiwaxx Presents: The Blast

,

White Folks Get Crunk for DJs

,

Legion Music & Media

,

UnderWorldMixRadio.com

,

MixLaWax Radio

,

Trunk Hustlers Online

,

907 Jamz

.

The6.FM

,

Nilo Radio

,

1.FM Jamz

,

Blayze University Radio

,

Blip.TV

,

iBlog126.com

,

Miro

,

WSOUF.com

,

True Fire Radio

,

StreetsD.com (Streets Mos Magazine Radio)

,

Rock The Dub

,

Last Word Online

,

Soul Pitch Hustle

,

Black Soul Rhythms

,

Honey Magazine

,

i95.FM

,

The PRess Junkie

,

Planet Ill

,

Ground Up Radio

,

W.O.W. Radio

,

DIRadioCast

,

Fleet DJ Radio

,

SWURV Radio

,

Revolt Radio

,

GC Radio

,

BlackCoffeeChannel.com

(Coming Soon),

Gutta Muzik (HD) Radio

(Coming Soon)
** Most Stations/Outlets Tracked via RadioWave Monitor, Mediaguide & SoundExchange **
Subscribe to get the weekly episodes of the syndicated FuseBox Radio Broadcast with DJ Fusion & Jon Judah!
XML