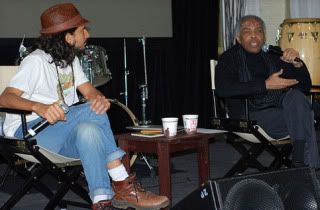 Joao Amorim and Gilberto Gil at Green Festival DC 2010
Since I'm catching up on posting up some
BlackRadioIsBack.com
/
FuseBox Radio Broadcast
videos today (FINALLY), here is some from this year's
Green Festival DC
programming.
I think that the speech/question & answer session between documentary filmmaker
Joao Amorim
& internationally renown musician
Gilberto Gil
should be interesting for people curious about the usage of
Creative Commons
to share ideas & expand creativity in all sorts of fields all over the world.
Give it a look and let us know what you think!

Program Description:

Gilberto, in conversation with filmmaker Joao Amorim, explores how cooperative models in the music industry, like Creative Commons, are spreading to the production of other products and ultimately spreading new values in global human culture.

Gilberto Gil Mini-Bio:

Gilberto Gil carries out a fundamental role in the constant modernization process of Brazilian popular music.

Partaking of this scene for 46 years, he has developed one of the most relevant and renown careers as a singer, composer and guitar-player in this field.

Gil has had his albums released abroad since 1978, the year of his successful performance at the Montreux Jazz Festival, in Switzerland, recorded live.




Every year he tours Europe, North America, Latin America, and Japan with his contagious pop music spoken in Brazilian Portuguese, an international language and music with a strong rhythmic appeal and melodic richness, as mixed as its people.

Rhythms from the northeast of Brazil like the baião, apart from samba and bossa-nova were fundamental in his formation.

Using them as a starting point, Gil forged his own music to which he incorporated rock, reggae, funk and rhythms from Bahia such as afoxé.




Gil has tackled a wide variety of issues in his lyrics, pertinent to modern reality: from social inequality to the racial question, from African to Oriental culture, from science to religion, among others.

The mastership with which Gil explores these subjects makes him one of the greatest Brazilian composer-lyricists.

Gil's importance to the culture of his country goes back to the 60's, when he and Caetano Veloso created Tropicalism. Radically innovative in the music scene, the movement assimilated pop culture to national genres; deeply critical on political and moral levels, Tropicalism ended up being repressed by the authoritarian regime. Gil and Caetano were imprisoned and exiled.

With 52 albums released, Gilberto Gil has 12 gold records, 5 platinum albums, 7 Grammys and more than 4 million records sold..

For his unflinching creative engagement in bringing to the world the heart and soul of the Brazilian music, Gilberto Gil has been honored by several entities and personalities has also received many prizes in Brazil and abroad.