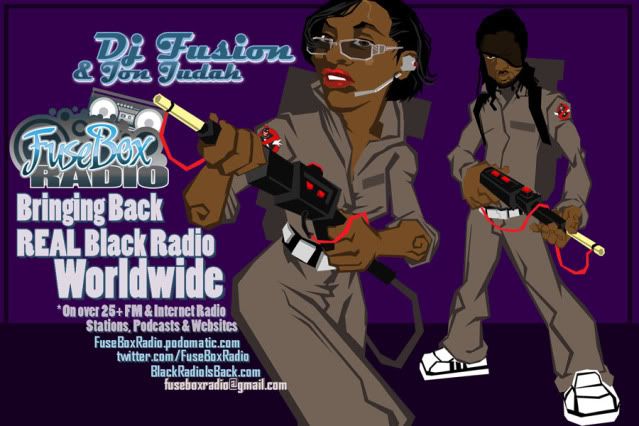 Player (via
Podomatic
feed):
Backup Player (via
Blip.TV
feed):
Direct mp3 Download
(right click and "save as")
Backup mp3 Download via Blip.TV
(right click and "save as")
This is the latest episode of the syndicated
FuseBox Radio Broadcast
with DJ Fusion & Jon Judah for the weeks of October 19, 2011 with some new and classic Hip-Hop & Soul Music, news and commentary.
Our extended commentary this week touched base on our viewpoint + the latest updates of the #OccupyWallStreet and other affiliated #Occupy movements throughout the U.S. & the world, DJ Fusion's NYC + NJ travels which included hitting up New York Comic Con 2011, more Republican Party Shenanigans here in the U.S. and some other diverse topics here and there.
FuseBox Radio Playlist for the Week of October 19, 2011 (in no particular order)
Sun Ra/Door of the Cosmos/Saturn
Camp Lo/Park Joint/Profile & Arista
The Roots feat. Big K.R.I.T./Make My/OkayPlayer & Def Jam
Maya Azucena/Changed My Mind/MayaAzucena.com
Colie Williams/Everywhere I Go/ColieWilliams.com
Sutter Kain/L.O.V.E./Never So Deep Records
Common/Blue Sky/White Label (Played Live)
Icebird (rjd2 & Aaron Livingston)/King Tut/RJ's Electrical Connections
Phonte feat. Pharoahe Monch/We Go Off/FE Music
Peven Everett/Sweetness Is (Jojoflores & Rom Jamsteady RMX)/Bombay Records The Proforms/Get Ready/TheProforms.com
DJ Priority & Venomous2000/Rock The Bells/Venomous2000.com
Electro Deluxe/Peel Me/ElectroDeluxe.com
Nappy Riddem/DTA (Dreadlock Transit Authority)/Fort Knox Recordings
DJ Cam feat. Nicolette/Love/Inflammable Records
PLUS Some Extra Special Hidden Tracks in the Jon Judah Master Mix w/ Old School Black Music Classics and Independent Music Finds
Current FuseBox Radio Broadcast Radio & Internet Affiliates
** Most Stations/Outlets Tracked via RadioWave Monitor, Mediaguide & SoundExchange **
Subscribe to get the weekly episodes of the syndicated FuseBox Radio Broadcast with DJ Fusion & Jon Judah!