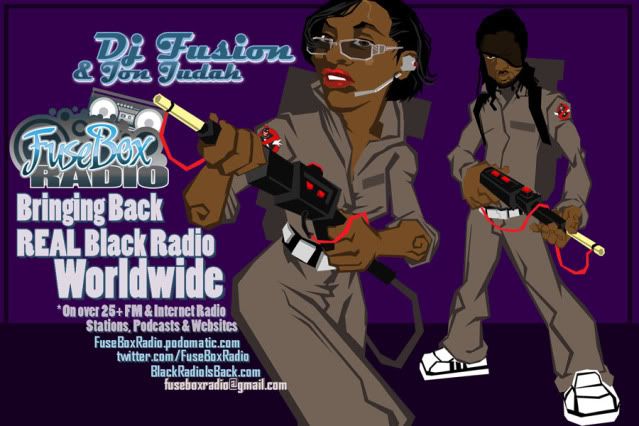 Player (via
Podomatic
feed):
Direct mp3 Download
(right click and "save as")
FuseBox Radio Playlist for the Week of December 7, 2011 (in no particular order)
Main Source/Looking at the Front Door/Wild Pitch
Gangstarr/The Question Remainz/Jive
Common/Sweet/GOOD
Jill Scott/Golden (DJ K. Millz RMX)/White Label
Nujabes feat. Cise Star/Sky Is Tumbling/Hydeout-Tribe.net
Doodlebug feat. Digable Planets/Fight For Ya Right/White Label
Eric Roberson/Tale of Two (Tall Black Guy RMX)/Tall Black Guy Productions
Metronomy/Everything Goes My Way (Ewan Pearson RMX)/Big Beat & Because
Robin Thicke/Lovely Lady/Star Trak & Geffen
The Roots feat. Phonte & Dice Raw/One Time/Def Jam
Pete Rock & Camp Lo/Get Away/White Label
Tanya Morgan/Whatever That's Mine/IMCulture.com
J*Davey/Queen of Wonderland/JDaveyBaby.com
Georgia Ann Muldrow/Whollyspirit/AnimatedCarTunes.com
Notes To Self feat. Evidence/Nobody (Recoil RMX)/NotesToSelf.net
Acid Reign/The Grind/Uncommon Records
Milk & Sugar vs. Vaya Con-Dios/Hey (Nah Neh Nah)/Ultra
Machel Montano feat. Friday/Make Yuh Rock/E1
Paris Toon (of Mother's Favorite Child)/Brooklyn Baby/White Label
Busy Signal/Caribbean Jabb/Truckback Records
Rayvon/Felony (Kinky Wine Riddim)/White Label
PLUS Some Extra Special Hidden Tracks in the Jon Judah Master Mix w/ Old School Black Music Classics and Independent Music Finds
Current FuseBox Radio Broadcast Radio & Internet Affiliates
** Most Stations/Outlets Tracked via RadioWave Monitor, Mediaguide & SoundExchange **
Subscribe to get the weekly episodes of the syndicated FuseBox Radio Broadcast with DJ Fusion & Jon Judah!