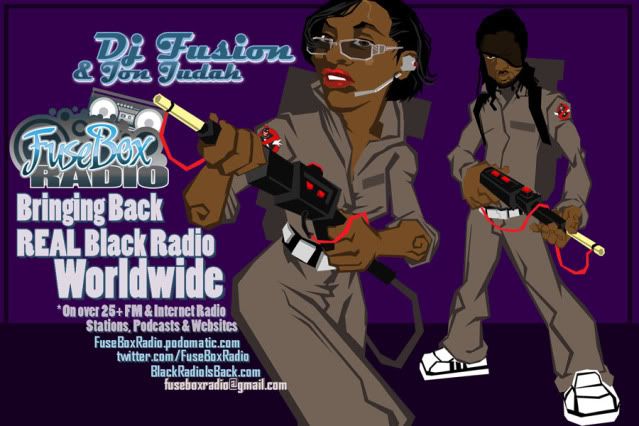 Player (via
Podomatic
feed):
Direct mp3 Download
(right click and "save as")
FuseBox Radio Playlist for the Week of November 30, 2011 (in no particular order)
Top Spins (Music Still Lasting in Rotation/Music Played Live on Air Each Week/As Well As Music Requested By The Listeners)
Nas/No Idea's Original/White Label
The Roots feat. Phonte & Dice Raw/One Time/Def Jam
Pete Rock & Camp Lo/Get Away/White Label
Tanya Morgan/Whatever That's Mine/IMCulture.com
J*Davey/Queen of Wonderland/JDaveyBaby.com
Georgia Ann Muldrow/Whollyspirit/AnimatedCarTunes.com
Sketch Malkus/The Hustler/GhettoPunkRocker.com
Barry Llewellyn from The Heptones/Book of Rules/White Label
Shawn Lee's Incredible Tabla Band/Apache/Ubiquity Records
See-I/Reign in 2 Light (Clayton & Fulcrum RMX)/Fort Knox Recordings
Notes To Self feat. Evidence/Nobody (Recoil RMX)/NotesToSelf.net
KRS-One/Just Like That/KRS-One.com
Beastie Boys/Thirty Three Percent (BB & DB Mix)/White Label
Gregory Porter/1960 What? (Opolopo Kick & Bass RMX)/Tokyo Dawn Records
PLUS Some Extra Special Hidden Tracks in the Jon Judah Master Mix w/ Old School Black Music Classics and Independent Music Finds
Current FuseBox Radio Broadcast Radio & Internet Affiliates
** Most Stations/Outlets Tracked via RadioWave Monitor, Mediaguide & SoundExchange **
Subscribe to get the weekly episodes of the syndicated FuseBox Radio Broadcast with DJ Fusion & Jon Judah!