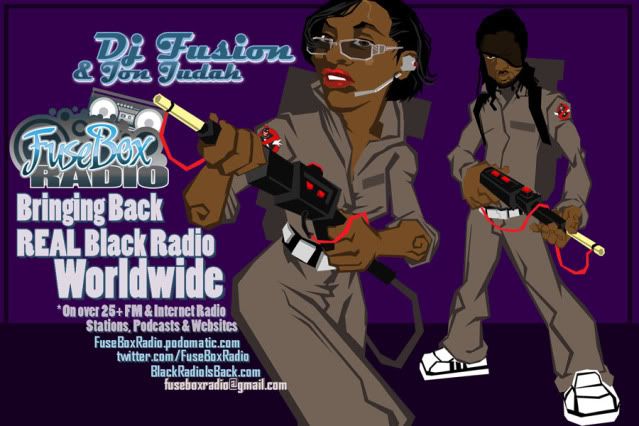 Player (via Podomatic feed):
This is the latest episode of the syndicated
FuseBox Radio Broadcast with DJ Fusion & Jon Judah
for the week of April 4, 2012 with some new and classic Hip-Hop & Soul Music, news and commentary.
Our extended commentary this week touched base on some more of
the latest updates and our opinions of the reactions from activists, politicians, individuals, the media more about the Trayvon Martin case in the United States and beyond
,
the crazy case of Black off-duty police officer Howard Morgan and his current charges of attempted murder
,
the passing & impact of journalism legend Gil Noble (of the "Like It Is" TV Show and more)
, how marketing & getting a check without balances went pretty wrong with
Mary J. Blige's Burger King commercial about Crispy Chicken Wraps
,
U.S. President Barack Obama showing off some of his geek side at the White House with actress Nichelle Nichols
and some other diverse topics here and there.
There are brand new
Free Press
"Media Minutes",
Black University Radio Network
(B.U.R.N.) Direct EFX and
Black Agenda Report
News mini-segments on this week's episode.
FuseBox Radio Playlist for the Week of April 4, 2012 (in no particular order)
A Tribe Called Quest/Scenario (Young Nations Mix)/Jive
Marvin Gaye/Time To Get It Together/Motown
Georgia Anne Muldrow/The Birth of Petey Wheatstraw/SomeOthaShip Connect
J. Rawls/The Maier-Saupe Theory/Nature Sounds
Vicelounge/Big Problems (I Love The Way)/Vicelounge.com
Nas/The Don/Def Jam
The Pointer Sisters/Pinball Count (DJ Food RMX)/White Label
Chuck Brown & The Soul Searchers/If It Ain't Funky/White Label
Conya Doss/Paradise/ConyaDoss.com
Jasiri X/Trayvon/JasiriX.com
Gramps Morgan/Life's Too Short/Dada's Son Ent.
Los Transatlanticos feat. Freddy Livingston, Prina & Doggy Fresh/Moving Up (Se Me Siento Fine)/BBE
Warrior King/Stand Up Inna Dih Fyah/White Label
Clarke/The Measure of My Worth (After The Dance RMX)/Clarke
PLUS Some Extra Special Hidden Tracks in the Jon Judah Master Mix w/ Old School Black Music Classics and Independent Music Finds
Current FuseBox Radio Broadcast Radio & Internet Affiliates
** Most Stations/Outlets Tracked via RadioWave Monitor, Mediaguide & SoundExchange **
Subscribe to get the weekly episodes of the syndicated FuseBox Radio Broadcast with DJ Fusion & Jon Judah!