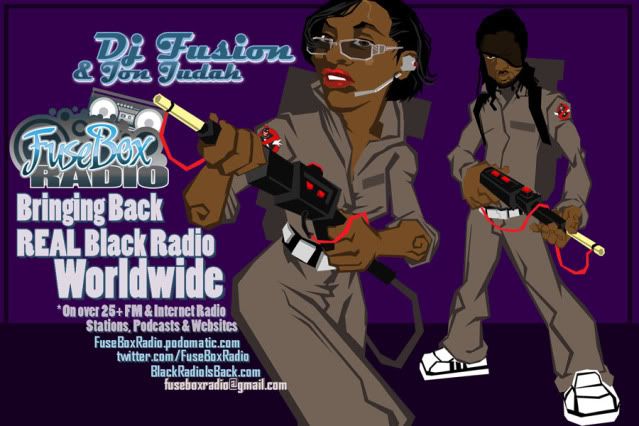 Player (via Podomatic feed):
This is the latest episode of the syndicated
FuseBox Radio Broadcast with DJ Fusion & Jon Judah
for the week of April 11, 2012 with some new and classic Hip-Hop & Soul Music, news and commentary.
Our extended commentary this week touched base on some more of the latest updates and our opinions of the reactions from activists, politicians, individuals, the media more about the Trayvon Martin case in the United States and beyond, the U.S. Department of Justice paying over $1 billion to Native American Tribes over mismanagement of land resources, the death of "60 Minutes" journalist Mike Wallace, the flashback McCarthy era accusations by Republican Rep. Allen West calling Democrats communists as a scare tactic, Hip-Hop long-term mainstay/legend Q-Tip singing to G.O.O.D. Music, one of the weirdest drug smuggling stories ever and some other diverse topics here and there.
There are brand new
Free Press
"Media Minutes",
Black University Radio Network
(B.U.R.N.) Direct EFX and
Black Agenda Report
News mini-segments on this week's episode.
FuseBox Radio Playlist for the Week of April 11, 2012 (in no particular order)
Herbie Hancock/Watermelon Man (Kenny Dope Club Mix)/White Label
AZ feat. Heavy D/Sucker MCs/White Label
Gil Scott-Heron/We Beg Your Pardon (Pardon Our Analysis) (Live Version)/White Label
Nneka/Shining Star (Joe Goddard RMX)/Decon
DJ Premier and Bumpy Knuckles/Own It/Fat Beats
I Self Divine/The Origin Of Urban Crisis/Rhymesayers
Garrison Hawk with Sly & Robbie/Reggae Music/MOD Technologies
Boycott Blues/iKNOW/On Thin Ice Records
Georgia Anne Muldrow/The Birth of Petey Wheatstraw/SomeOthaShip Connect
J. Rawls/The Maier-Saupe Theory/Nature Sounds
Vicelounge/Big Problems (I Love The Way)/Vicelounge.com
Jasiri X/Trayvon/JasiriX.com
Clarke/The Measure of My Worth (After The Dance RMX)/Clarke
PLUS Some Extra Special Hidden Tracks in the Jon Judah Master Mix w/ Old School Black Music Classics and Independent Music
Current FuseBox Radio Broadcast Radio & Internet Affiliates
** Most Stations/Outlets Tracked via RadioWave Monitor, Mediaguide & SoundExchange **
Subscribe to get the weekly episodes of the syndicated FuseBox Radio Broadcast with DJ Fusion & Jon Judah!