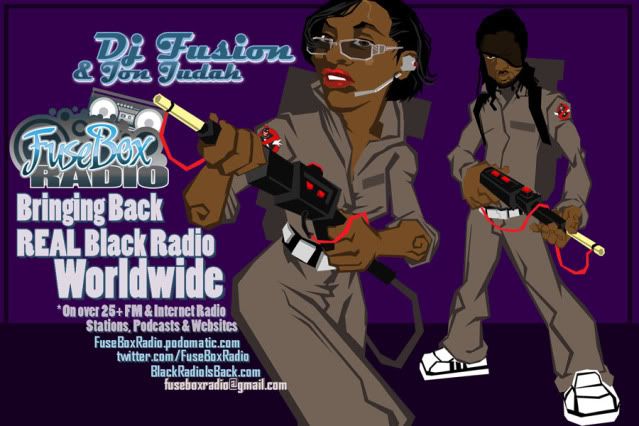 This is the latest episode of the
syndicated FuseBox Radio Broadcast with DJ Fusion & Jon Judah
for the week of April 18, 2012 with some new and classic Hip-Hop & Soul Music, news and commentary.
Our extended commentary this week touched base on some more of
the latest updates and our opinions of the reactions from activists, politicians, individuals, the media more about the Trayvon Martin case in the United States and beyond
, the devastating impact of the BP oil spill on aquatic wildlife in the Gulf Coast region 2 years later,
proof that Britain was hiding documents about the horrible treatment of African & Asian countries during their 20th century colonial era
,
the mix of weirdness & dopeness of the Tupac Shakur performing hologram at Coachella
, the 18th year anniversary of Hip-Hop MC Nas' "Illmatic" album,
the passing of TV legend ("American Bandstand", "New Years' Rockin' Eve" & more) Dick Clark
, and some other diverse topics here and there.
There are brand new
Free Press
"Media Minutes",
Black University Radio Network
(B.U.R.N.) Direct EFX and
Black Agenda Report
News mini-segments on this week's episode.
Feel free to check out some
recent episodes of the syndicated FuseBox Radio Broadcast over at our official blog,
BlackRadioIsBack.com - all of the shows are clean/radio friendly
.
FuseBox Radio Playlist for the Week of April 18, 2012 (in no particular order)
Nas/It Ain't Hard to Tell/Columbia
Hank Mobley/Talk About Gittin It/Blue Note
REKS feat. Kali, JFK & Termanology/Such A Showoff/Show Off & Brick Records Blaqstarr/Roses/Interscope
Tribeca feat. Camp Lo & M-Dot/True Lies/White Label
DJ Premier and Bumpy Knuckles/Own It/Fat Beats
Vicelounge/Big Problems (I Love The Way)/Vicelounge.com
I Self Divine/The Origin Of Urban Crisis/Rhymesayers
Nneka/Shining Star (Joe Goddard RMX)/Decon
Georgia Anne Muldrow/The Birth of Petey Wheatstraw/SomeOthaShip Connect
Captain Planet/Speakin' Nuyorican/BBE
Fun feat. Janelle Monae/We Are Young (Alvin Risk RMX)/Fueled By Ramen & RPP
PLUS Some Extra Special Hidden Tracks in the Jon Judah Master Mix w/ Old School Black Music Classics and Independent Music Finds
Current FuseBox Radio Broadcast Radio & Internet Affiliates
** Most Stations/Outlets Tracked via RadioWave Monitor, Mediaguide & SoundExchange **
Subscribe to get the weekly episodes of the syndicated FuseBox Radio Broadcast with DJ Fusion & Jon Judah!