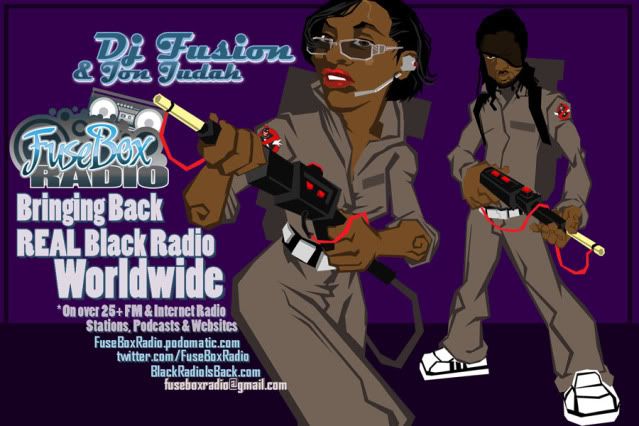 This is the latest episode of the syndicated
FuseBox Radio Broadcast with DJ Fusion & Jon Judah
for the week of March 28, 2013 with some new and classic music from the international Black Diaspora, news and commentary.
Our extended commentary this week touched base on the
"Monstanto Protection Act" slipping through the U.S. Congress
, the recent Hip-Hop community controversy
about the latest verse by Rick Ross on the Rocko song "U.O.E.N.O." that advocated date rape
&
his response
, hate-on-hate YouTube videos by Black Men & Women on each other,
an Idaho school district having issues over a biology teacher using the word "vagina"
,
New Jersey's latest Powerball winner having to now hand up on paying a LOT of child support
and some other things here and there.
There are brand new
Black Agenda Report
&
Black University Radio Network Direct EFX
news mini-segments on this week's episode.
Feel free to check out
some recent episodes of the syndicated FuseBox Radio Broadcast over at our official blog, BlackRadioIsBack.com - all of the shows are clean/radio friendly
.
FuseBox Radio Playlist for the Week of March 28, 2013 (in no particular order)
A Tribe Called Quest/Can I Kick It/Jive
Durag Dynasty feat. Evidence/Spiral Event/Nature Sounds
Bonobo/Emkay/Ninja Tune
Wipe The Needle/Count On Me (Kenny Carpenter Big Apple Mix)/Soundmen On Wax
Letherette/D&T (The Invisible RMX)/Ninja Tune
Moe Pope & Rain feat. REKS & Dua Boakye (of Bad Rabbits)/Spit vs. Ramos/Brick Records
Cappadonna/Slang Editorial II/White Label
Torae feat. Pharoahe Monch/What's Love/Internal Affairs Ent.
Ghostface Killah & Adrian Younge/The Sure Shot (Parts 1 & 2)/Soul Temple
Charly & Margaux/All The Parties (Suite #1, Allegro in C Minor)/CharlyandMargaux.com
Daville/Atlantis/White Label
PLUS Some Extra Special Hidden Tracks in the Jon Judah Master Mix w/ Old School Black Music Classics and Independent Music Finds
Current FuseBox Radio Broadcast Radio & Internet Affiliates
** Most Stations/Outlets Tracked via RadioWave Monitor, Mediaguide & SoundExchange **
Subscribe to get the weekly episodes of the syndicated FuseBox Radio Broadcast with DJ Fusion & Jon Judah!