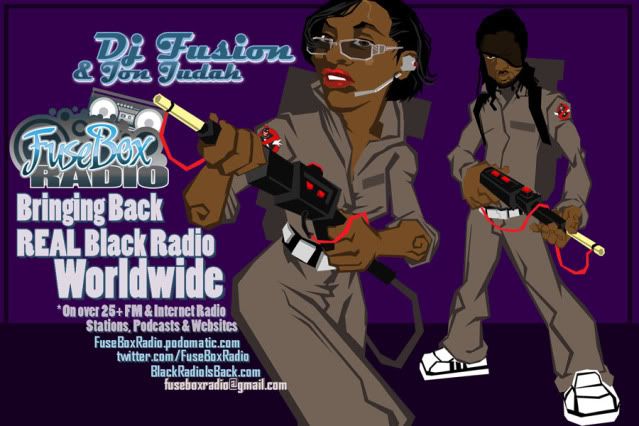 This is the latest episode of the syndicated
FuseBox Radio Broadcast with DJ Fusion & Jon Judah
for the weeks of April 10 & 17, 2013 with some new and classic music from the international Black Diaspora, news and commentary.
Our commentary this week touched base on
the death of British Prime Minister Margaret Thatcher & her political legacy
,
the passing of author & film critic Roger Ebert
,
the multi-faceted terribleness of the "Accidental Racist" song by Brad Paisley & LL Cool J
,
actor Wesley Snipes getting out of jail
,
when trying to make hentai be real with an eel goes EXTREMELY wrong
plus some other things here and there.
There is a brand new
Black Agenda Report
news mini-segment on this week's episode.
Feel free to check out
some recent episodes of the syndicated FuseBox Radio Broadcast over at our official blog, BlackRadioIsBack.com - all of the shows are clean/radio friendly
.
FuseBox Radio Playlist for the Weeks of April 10 & 17, 2013 (in no particular order)
Boogie Down Productions/My Philosophy/Jive
The Emotions/I Like It/Stax
Big K.R.I.T./Multi Till The Sun Die/Cinematic Music Group & Def Jam
Bonobo/Heaven For The Sinner/Ninja Tune
Rich Kidd/I'd Be Lying/Rich Kidd Beats
PRO ERA/Rosie At Rubber Tracks/TheProEra.com
Major Lazer feat. Busy Signal, The Flexican & FS Green/Watch Out For This (Bumaye)/Secretly Canadian & Mad Decent
Letherette/D&T (The Invisible RMX)/Ninja Tune
Chico Mann feat. Alecia Chakour/I Feel It/Soundwave
Sultan, Ned Shepard & Fedde Le Grand/Long Way From Home (Original Mix)/White Label
Hot 8 Brass Band/Milwaukee Fat/Tru Thoughts
Ty/Playing With Fire (inst.)/Tru Thoughts
Torae feat. Pharoahe Monch/What's Love/Internal Affairs Ent.
Charly & Margaux/All The Parties (Suite #1, Allegro in C Minor)/CharlyandMargaux.com
Ghostface Killah & Adrian Younge/The Sure Shot (Parts 1 & 2)/Soul Temple
PLUS Some Extra Special Hidden Tracks in the Jon Judah Master Mix w/ Old School Black Music Classics and Independent Music Finds
Current FuseBox Radio Broadcast Radio & Internet Affiliates
** Most Stations/Outlets Tracked via RadioWave Monitor, Mediaguide & SoundExchange **
Subscribe to get the weekly episodes of the syndicated FuseBox Radio Broadcast with DJ Fusion & Jon Judah!