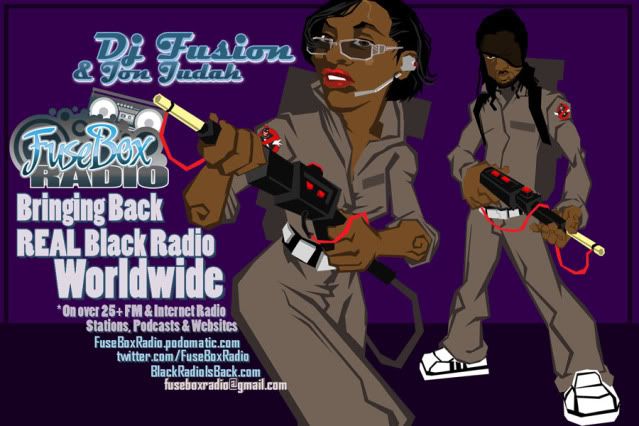 This is the latest episode of the syndicated
FuseBox Radio Broadcast with DJ Fusion & Jon Judah
for the weeks of April 24 & May 1, 2013 with some new and classic music from the international Black Diaspora, news and commentary.
Our super-extended commentary this week (after being off last week) touched base on the terrible events of
the Boston Marathon Bombings
&
the fertilizer plant explosion in West, Texas
along with our viewpoint of the media coverage - good and bad - of both events,
U.S. Congress members' recent proposal to label all GMO (genetically modified) foods
, our weekend experiences over at the
NYC Green Festival
&
Awesome Con D.C.
,
the crazy story of a gang literally running a Baltimore, MD prison for years (including having it's leader get 4 complicit female guards pregnant)
,
a McDonald's hamburger that didn't barely go bad or rot for over a decade (!)
plus some other things here and there.
There is a brand new
Black Agenda Report
news mini-segment on this week's episode.
Feel free to check out
some recent episodes of the syndicated FuseBox Radio Broadcast over at our official blog, BlackRadioIsBack.com - all of the shows are clean/radio friendly
.
FuseBox Radio Playlist for the Weeks of April 24 & May 1, 2013 (in no particular order)
Black Moon/Who Got Da Props/Duckdown
Janelle Monae feat. Erykah Badu/Q.U.E.E.N./Atlantic
Daft Punk feat. Pharell Williams/Get Lucky/Columbia
Omar/The Man/Freestyle Records
100 Akres feat. Rapper Big Pooh/halcyon (intro)/100Akres.com
Alice Russell/To Dust/Tru Thoughts
A-Alikes feat. M1 of Dead Prez/Whole Life/Hard Boiled Records
Dessa/Warsaw/Doomtree
Bonobo feat. Erkyah Badu/Heaven For The Sinner/Ninja Tune
Rich Kidd/I'd Be Lying/Rich Kidd Beats
PRO ERA/Rosie At Rubber Tracks/TheProEra.com
Major Lazer feat. Busy Signal, The Flexican & FS Green/Watch Out For This (Bumaye)/Secretly Canadian & Mad Decent
Hot 8 Brass Band/Milwaukee Fat/Tru Thoughts
Ty/Playing With Fire (inst.)/Tru Thoughts
PLUS Some Extra Special Hidden Tracks in the Jon Judah Master Mix w/ Old School Black Music Classics and Independent Music Finds
Current FuseBox Radio Broadcast Radio & Internet Affiliates
** Most Stations/Outlets Tracked via RadioWave Monitor, Mediaguide & SoundExchange **
Subscribe to get the weekly episodes of the syndicated FuseBox Radio Broadcast with DJ Fusion & Jon Judah!