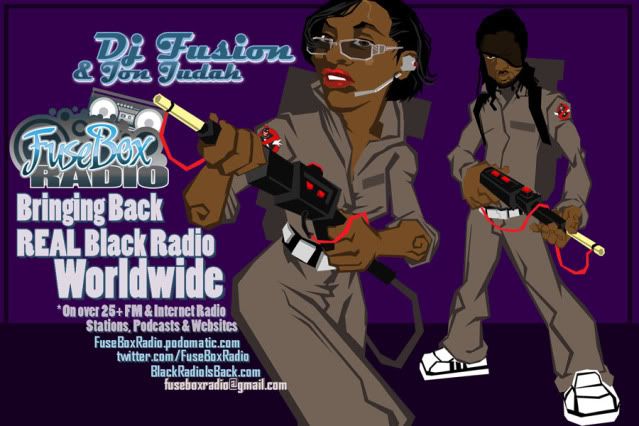 This is a flashback episode of the syndicated
FuseBox Radio Broadcast with DJ Fusion & Jon Judah
[due to us currently being in Toronto to perform at this year's North by Northeast (NXNE) festivities] for the weeks of June 5 & 12, 2013 (originally broadcast on Feb. 2, 2011) featuring some new and classic Hip-Hop & Soul Music, news and commentary from that time.
Our commentary that week focused on updates with the internet- & street-based political protests/revolutions occurring in Egypt, the possible return on of ex-president Jean-Bertrand Aristede to Haiti, DJ Kool Herc's recent illness & the need for Health Care in more ways than one with musicians, the National Black Theater in Harlem & it's current debt issues and some more diverse topics here and there.
During that week's episode we had a great interview with Hip-Hop Legend Kool G Rap (
http://www.KoolGRap4Ever.com
).
Some of the topics we covered in this in depth interview with the long established & classic Hip-Hop MC include his various creative influences, the drastic need for balance in Hip-Hop music and the media outlets in general, some of Kool G Rap's peraonal favorite MCs, DJs & producers, memories of Mr. Magic (R.I.P.) & the Juice Crew, how he feels about fans criticizing Hip-Hop artists for not being "street" enough for cred, Kool G Rap's upcoming "Offer You Can't Refuse" EP & the "Riches, Royalty & Respect" album projects dropping this eyar along with lots more!
We will have brand new Black Agenda Report, Free Press "Media Minutes" and Black University Radio Network (B.U.R.N.) Direct EFX mini-segments in next week's syndicated FuseBox Radio Broadcast episode.
Feel free to check out
some recent episodes of the syndicated FuseBox Radio Broadcast over at our official blog, BlackRadioIsBack.com - all of the shows are clean/radio friendly
.
FuseBox Radio Playlist for the Weeks of June 5 & 12, 2013 (originally broadcast on February 2, 2011) RZA feat.
Kool G Rap, Inspectah Deck & Suga Bang/You Already Know/Koch
UGK feat. Big Daddy Kane & Kool G Rap/Next Up/UGK Records & Jive
Kool G Rap feat. Haylie Duff/On The Rise/Chinga Chang, Latchey & Koch
Kool G Rap & DJ Polo/On The Run/Cold Chillin'
Kool G Rap & DJ Polo/Butcher Shop/Cold Chillin'
Big L feat. Kool G Rap/Fall Back/Rawkus, Priority & EMI
Pete Rock feat. Kool G Rap & Large Professor/Truly Yours '98/Loud
Kool G Rap feat. Nas/Past Life (Norfside RMX)/Cold Chillin' & Epic Street
Brand New Heavies feat. Kool G Rap/Death Threat/Delicious Vinyl
RZA & Kool G Rap/Cakes/Razor Sharp & Epic
Kool G Rap/Sad/KoolGRapNow.com
PLUS Some Extra Special Hidden Tracks in the Jon Judah Master Mix w/ Old School Black Music Classics
Current FuseBox Radio Broadcast Radio & Internet Affiliates
** Most Stations/Outlets Tracked via RadioWave Monitor, Mediaguide & SoundExchange **
Subscribe to get the weekly episodes of the syndicated FuseBox Radio Broadcast with DJ Fusion & Jon Judah!