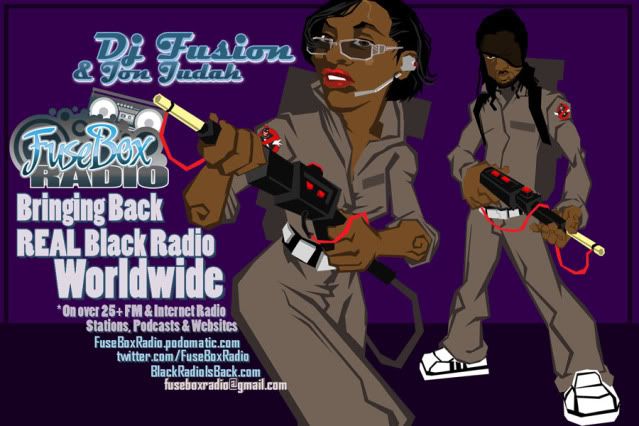 Player (via
Podomatic
feed):
Backup Player (via
Blip.TV
feed):
Direct mp3 Download
(right click and "save as")
Backup mp3 Download via Blip.TV
(right click and "save as")
FuseBox Radio Playlist for the Week of November 2, 2011 (in no particular order)
Keith Murray/It's That Hit/Interscope
Lou Donaldson/Rev. Moses/Blue Note
SmCity faet. Skyzoo & Kokayi/Twilight/SmCityMusic.com
Afama Mara/Black Lullaby/Arama-Mara.com
Sydnee-Jane/Bad/SydneeJane.com
Foster The People/Pumped Up Kicks (DJ Jonty RMX)/White Label
DJ Premier feat. Nas & The Berklee Symphony Orchestra/Regeneration/White Label
Goapele/Money/Skyblaze & Decon
Colie Williams/Everywhere I Go/ColieWilliams.com
Robert Koch/Midnight On the Moon/Project Mooncircle
The Roots feat. Big K.R.I.T./Make My/OkayPlayer & Def Jam
Silent Knight feat. a band called FUSE/Pretty Poison/White Label
Justice/Civilization/Ed Banger, Because Music, Elektra & Vice
Bing Ji Ling/Everyday Dub/Tummy Touch
Malkovich feat. Sum/What I Know/MalkovichMusic.com
Bunji Farlin/Turn Up (X6 Riddim)/White Label
Miskojonia feat. William Commanda/Red Gold/Balanced Records
PLUS Some Extra Special Hidden Tracks in the Jon Judah Master Mix w/ Old School Black Music Classics and Independent Music Finds
Current FuseBox Radio Broadcast Radio & Internet Affiliates
** Most Stations/Outlets Tracked via RadioWave Monitor, Mediaguide & SoundExchange **
Subscribe to get the weekly episodes of the syndicated FuseBox Radio Broadcast with DJ Fusion & Jon Judah!